A Love Poem to India
By
Lavina Melwani
• Jan 19th, 2010 • Category:
24/7 Talk is Cheap - The Blog
GD Star Rating
loading...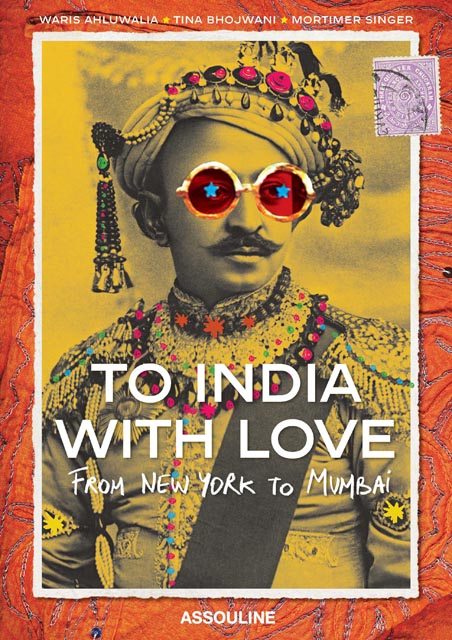 I'm always amazed by the passion India evokes in those who visit her. I've met people in New York elevators and on the streets whose eyes light up when they hear you are from India. All of them have love stories to relate, wonderful anecdotes about what the country means to them. In the wake of the Mumbai terror attacks, people everywhere have expressed their solidarity with the city and the country, showing their caring in many different ways.
'To India with Love: From New York to Mumbai' (Assouline) is the response of three intrepid New Yorkers to the attacks. Waris Ahluwalia, Tina Bhojwani and Mortimer Singer, who formed the organization 'Mumbai: We Got your Back.' They turned to the myriad friends of India across the world and gathered their comments and heartfelt emotions, photographs and art. They gift-wrapped them in this scrapbook, an offering to Mumbai. Their share of the proceeds of the book go to the Taj Public Service Welfare Trust, which was set up in provide relief to the victims of the attacks.
In the book you meet celebrities, designers, artists, movie stars and industrialists. Adrien Brody, Anand Mahindra, Anil Kapoor, Anjelica Huston, Cynthia Rowley, Diane von Furstenberg, Elizabeth Hurley, Evelyn Lauder, Fareed Zakaria, Francesco Clemente, James Ivory, M.F. Husain, India Hicks, Mukesh Ambani, Padma Lakshmi, Ratan Tata, and Zubin Mehta are some of those who share their stories of what India means to them.
Noted photographers share their images of India and you catch the diverse people, bright eyed children, the colors of India all captured through their lens. Every visitor sees India through a personal perspective. To read these comments, see the art and images the country inspires is to understand why people return again and again to India.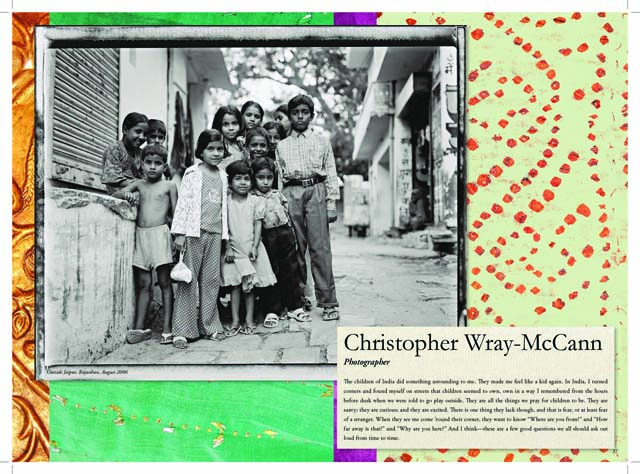 Christopher  Wray-McCann – photographer
"The children of India did something astounding to me. They made me feel like a child again. In India, I turned corners and found myself on streets that children seemed to own, own in a way I remembered from the hours before dusk when we were told to go play outside. they are all the things we for children to be. They are savvy; they are curious; and they are excited. There is one thing they lack though, and that is fear, or at least fear of a stranger. When they see me come 'round their corner, they want to know "Where are you from?" and "How far is that?" and "Why are you here?" And I think – these are a few good questions we all should ask out loud from time to time."
Steve McCurry – Photographer
"The monsoon is the earth's most awesome climate event. It has spiritual weight in India, literally bringing resurrection as it turns brown earth green.
Monsoon weather is challenging for a photographer, but I am drawn to it. There are as many different kinds of rain-saturated light as there are storms. Writers can revise and rewrite their descriptions but photographers' critical decisions are instant, and with monsoon light changing fast, the urgency of the photography can be intense.
The paradox of the monsoon is that there is usually too much or too little rain for the health and livelihoods of rural people, dependent on a force indifferent to them. It has little direct effect on the urban population, which grits its teeth and carries on."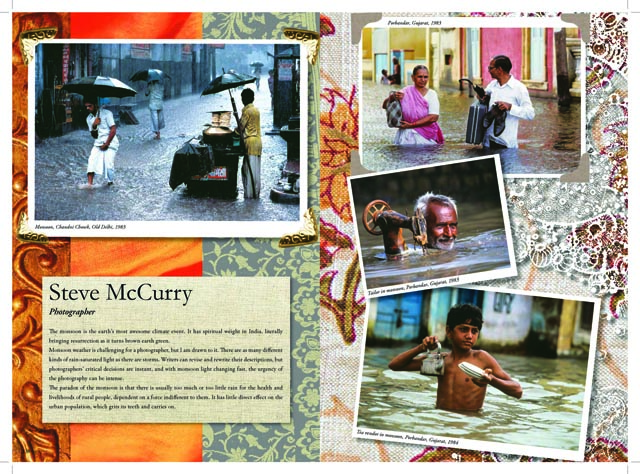 Anjelica Huston shares this anecdote: "One evening we were on our way back from the Jain temple at Ranakpur and we must have seen over 200 monkeys being fed the gamekeeper. Some  were old grandfather monkeys, some were tiny baby monkeys, but each one held a bright red carrot in their little black hand. It was a perfect picture of democracy."
As photographer Billy Farrell astutely notes, "One thing I love about India is that even if something can't get done, someone will tell you it can be done. Some call this a sense of optimism and some call it India."
Browse through the pages and you hear from Farzad S. Jehani, owner of the ravaged Leopold Café. He puts it simply, "We won, they lost. We always bounce back: our shutters went up as soon as the curfew was lifted."
"We won, they lost. We always bounce back: our shutters went up as soon as the curfew was lifted. We lost two of our staff, but the Cafe resurrected itself with Mumbai loyalists. The city is full of life and of cultures, and after this dastardly act it mobilized itself in grief – we all came back together. We hope this never happens again, but if it does, the next time we shall be prepared. "
-Farzad  S. Jehani, owner, Leopold Cafe, Mumbai
And finally this scrapbook  page from Ratan Tata says it all. An image of the beautiful Taj Mahal hotel unbowed and welcoming many more guests; and one of Ratan Tata with his much admired Nano car. India
Ratan Tata, Chairman Tata Sons
"We have shown that we cannot be disabled or destroyed. Such events have only made us stronger, and we have increased our resolve not to allow divisive forces to weaken us. We should always overcome these disruptive forces as one strong, unified nation."

For more information about (MWGYB!) visit www.mumbaiwegotyourback.com
GD Star Rating
loading...
Lavina Melwani is a New York based journalist who writes for several international publications. Connect on Twitter at lassiwithlavina or on Facebook & LinkedIn with Lavina Melwani
Email this author | All posts by Lavina Melwani