By
Lavina Melwani
• Dec 21st, 2013 • Category:
Faith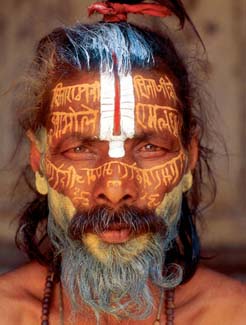 "These sadhus are like a living question that people have forgotten to ask," says noted photographer Thomas Kelly. "Their painted bodies confront us with essential questions at the heart of existence…provoking the questions, 'Who am I?' 'What do I need?' 'What is really important?'"
So as we ponder this, we can take a stroll through the beautiful Rubin Museum of Art situated in frenzied Manhattan and see how the sadhus are trying to make sense of the world.
I'm always intrigued by the fact that this gorgeous museum devoted to the soul and to spirituality was once a highly materialistic shopping heaven – Barneys! Now to walk through it is like being in a temple of peace, and each of us is free to find our own path to salvation.
---