Lassi with Lavina Guide to Upcoming Events:
2016 Asia Week Celebrates the Best of Asian Art
W
ith the new year lying ahead of us as an exciting blank slate to be filled in, it's good to know that  you can pencil in some exciting art activities in the month of March! Yes, for all you Asian art lovers, March 10-19 is Asia Week, with its big celebration of Asian Art. A recent press cocktail announced that 46 international galleries and 5 auction houses – Bonhams, Christie's, Doyle New York, iGavel, and Sotheby's – will once again be showcasing the best of Asian art.
The 2016 edition of Asia Week New York continues to offer a non-stop schedule of gallery open houses, auctions at Bonhams, Christie's, Doyle, iGavel, and Sotheby's, exhibitions, lectures, symposia and special events at several museums.  To celebrate the week's festivities, there will be a private reception, jointly hosted with the Department of Asian Art of  The Metropolitan Museum of Art at the Met on March 14.
I
n 2015,  the Met Museum  celebrated the Department of Asian Art's 100th Anniversary with a yearlong Program of 19 exhibitions and installations of Asian art, and will be showcasing several in March. If you're passionate about South Asian art, watch out for Encountering Vishnu: Teh Lion Avatar in Indian Temple Drama  (Dec 19,2015 – June 5, 2016) and The Arts of Nepal and Tibet: Recent Gifts ( January 23, 2016 – January 15, 2017.)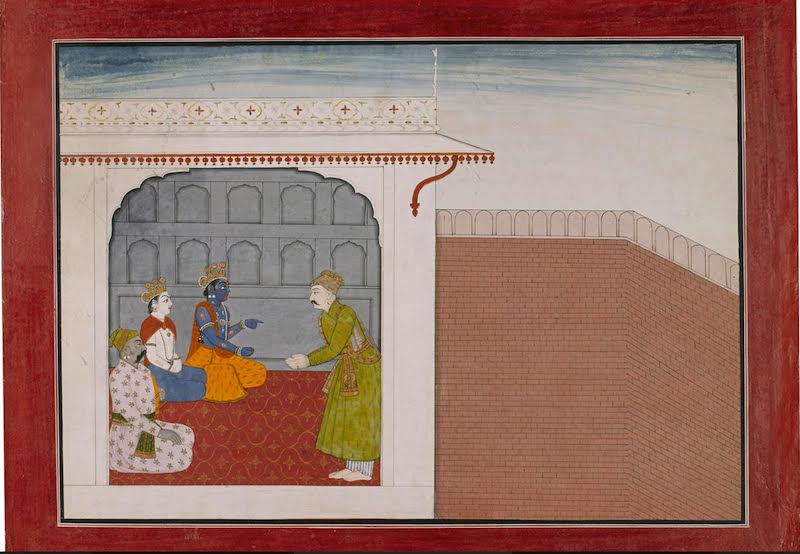 An Illustration to the "Large" Bhagavata Purana: Krishna, Balarama, and Nanda Receive Akrura Attributed to Manaku and Fattu  (Nancy Wiener)
The Art of South Asia 
B
esides the art of the Far East, there are several international galleries showcasing Indian, Himalayan and southeast Asian art including Buddhist Art (Germany), Galerie Christophe Hioco (France), Nayef Homsi Ancient Art of Asia (United States), Prahlad Bubbar (England), Walter Arader Himalayan Art (United States), Carlo Cristi (Italy), Francesca Galloway (England), Oliver Forge & Brendan Lynch Ltd (England), Navin Kumar Gallery,  Kapoor Galleries (United States), Susan Ollemans  (England), Carlton Rochell Asian Art (United States), John Siudmak (London), Dalton Somaré (Italy), and Nancy Wiener (United States).  This time modern Indian art also takes the limelight,  at DAG Modern which is one of 9 new entrants to Asia Week. Other newcomers to Asia Week are the Renaud Montmeat Art d'Asie  from Paris and Tenzing Asian Art from San Francisco.
It's a great time to get acquainted with Asian Art, be it Indian, Himalayan, Chinese, Japanese or Korean art. To kick off the festivities,  many dealers will launch their exhibitions on March 11. The Open House Weekend, where all participating dealers open their doors to the public takes place on March 12–13. (Exhibitions remain open the following week—see individual listings for details.)
More details at www.asiaweekny.com
Related Article