434 people reached on Lassi with Lavina FB page
Pranay Gupte, Chandini Dayal and 2 others like it on FB
Lassi with Lavina's Guide to Upcoming Events:

International Day of Yoga
URGENT NOTIFICATION
The Consulate's flagship IDY Yoga event called 'Recharge @ Battery Park was scheduled to be held today (19th June,2017) from 5 pm till 8:30 pm. However, US National Weather Service has predicted severe thunderstorm and flooding in New York City this evening.  The Battery Park Authorities have advised cancellation of the Yoga Event which was scheduled to be held this evening.
Recognize these famous people doing yoga? If they could fit it into their busy lifestyles,  it's about time you did too!
C
alling all Yogis and would-be yogis! International Day of Yoga is around the corner and it's time to stretch into a new lifestyle! There are activities in all parts of the world but New York has some very special events in the beautiful Battery Park.
Here are all the details:  Registration open – Click Here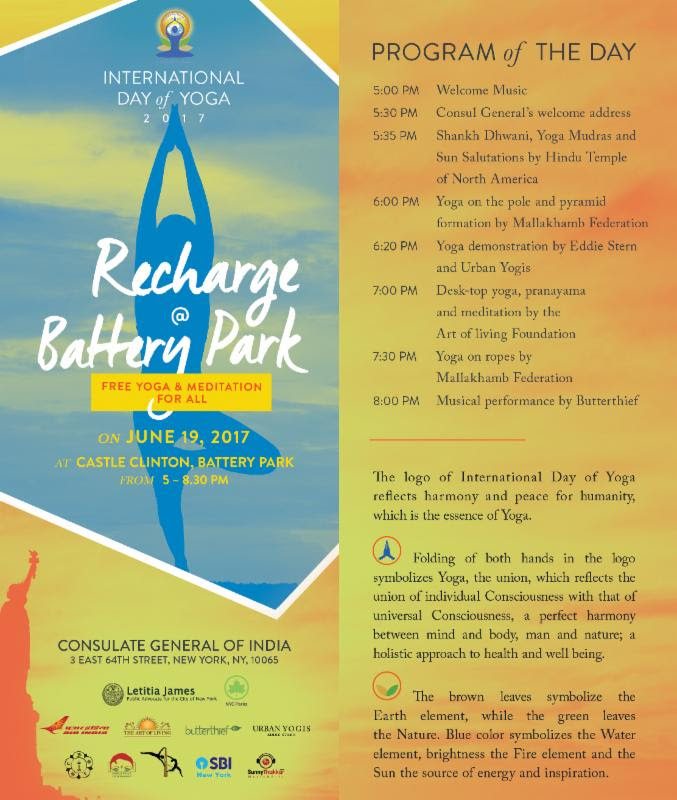 The Story Behind International Day of Yoga
I
f you're wondering how International Day of Yoga came about, here's the story:
The world rarely seems to agree on anything ever but this time a simple, peaceful four-letter word has brought them together – Yoga! Thanks to a suggestion by the Indian prime minister Narendra Modi, over 177 countries co-sponsored a United Nations resolution to make June 21st the International day of Yoga (IDY).
In 2015, Asoke Kumar Mukerji, India's permanent representative to the UN, estimated that  256 cities in 192 counries, including Pakistan, Saudi Arabia and Malaysia will be celebrating the first annual day of yoga, and over 2 billion people would participate across the world.
F
rom the Great Wall of China to the Eiffel Tower, yoga is going to take a bow. So be it Shanghai or Vienna, Belize City or Chandigarh, Berlin or Edinburgh, yoga is having its day in the public square. In countries across the world yoga events are planned on this one day. Who says the world can't speak the same language?  Yoga asanas are certainly bringing people closer together.
Related Stories from Lassi with Lavina
Narasimha, the mighty God Vishnu in his half man-half lion avatar, sits with his frontal arms relaxed in meditation, his two rear arms bearing the chakra disc and the conch shell, which is now missing. Around his tautly crossed legs one is amazed to find a yogapatta – or yoga strap!
For many contemporary practitioners of yoga who consider the yoga strap to be a part of their daily routine in a studio, this brilliantly executed Chola period bronze sculpture is an eye-opener. It shows that not only did yoga originate in India but goes all the way back to the Hindu gods.
"But isn't yoga an English word?"
This was the plaintive response one American had when she was told that yoga's original birthplace was India. Indeed, this ancient practice from India has traveled so far and been so cut off from its moorings that many current day practitioners in the west seem to think it was always a part of American life.
Now comes a comprehensive art exhibition in America, the first of its kind, which through the language of visuals – paintings, sculptures and photographs – traces yoga's roots back to India, back to Gods and Goddesses, back to spiritual and philosophical aspirations.
In Search of Yoga's Shining Past
All About Yoga from the Smithsonian
Pose: Radhika Khanna's 1 Minute Yoga Anywhere, Anytime
I Meditate NY, Sri Sri Ravi Shankar & Social Media