https://www.facebook.com/LassiwithLavina
5363 people saw it on Facebook
19 Page Post Likes –  100 likes on site.
Sponsored Content –  Tips You can Use
The Beautiful Art of Recycling Old Outfits for New
Where does that gorgeous Indian outfit go after you've worn it? I think all of us have faced this dilemma – spending a fortune on an Indian ensemble and not wanting to repeat it again. What do you do with such ornate outfits and how do you get new ones without spending more money?
Dina Patel, a very successful investment banker has used her business smarts to come up with the perfect solution for you! Turning entrepreneur, she's created Didi's Wardrobe – a reseller of new and gently used Indian clothing and accessories – in America! So now you don't have to sit and stare at the new outfit you never fit into, nor stuff  your bags with your used Indian outfits to dispose of in India!
This is what we call reincarnation – the American way! Says Chicago-based Patel, " It's a great way for individuals to clear their closets of beautiful clothes they can't bear to throw away – and there is no place to donate such ornate clothing. Also, it's difficult to take back clothing to India or  Pakistan with new baggage weight limits."
Dina was a busy investment banker in New York when she and a lawyer friend came up with the concept. They were always exchanging clothes with each other and thought the idea could be expanded into a  viable business, since everyone has so much inventory.  She says, "The business has been growing and people are still trying o understand the concept. That's been our biggest challenge  – but once they experience the benefits, they love it!"
Dina Patel & Didi's Wardrobe
Earlier it was a big no-no in the Indian community to buy or use previously used clothing but resale and vintage stores are popular in the US and it's a fashion trend to buy gently used clothing with designer names.
Today Indian clothing is also catching on with non-South Asian buyers so the clientele, says Dina, is 50-50. She says, " The stigma of buying gently used clothing is beginning to dissipate with the younger third-generation Indian Americans. I have noticed that affluent second-generation Indian Americans are also buyers on the site."
So how does Didi's Wardrobe work?
It offers  1000's of items on site and you can also add in items you'd like to sell – and it costs nothing with free, unlimited postings on the site. Dina has made it a user friendly buying platform for women's, men's and children's wear with pricing up to 80 percent off. She says, "Clients are happy to make space in their closet for new items and buyers receive a heavy discount on barely worn items."
"Many customers I speak with are going to their first Indian wedding in the US and not sure what to wear," she adds. "They are happy to find that they can join in on the festivities under $100 for a weekend  – that could include 2 outfits with jewelry!  We've also had a few buyers that end up wearing their items and then sending them back to consign again  – a great way to reduce the cost of using the item."
Indeed, there's a feeling of winning a lottery – for you may come across something that is just perfect for you and at a throw-away price!
Dina Patel's Tips on Didi's Wardrobe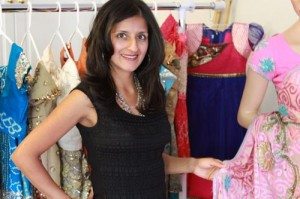 1. How can I sell what I don't want in my closet?
There are two methods to sell:
Post A Sale – members can post their own items by taking photos and inputting measurements and descriptions. Members are then required to ship items within 2 business days when items are sold.
We Post for You – those that are strapped for time can mail a box to Didi's Wardrobe. The company will inspect, photograph, measure and post items for clients. Didi's Wardrobe takes care of shipping when items are sold.
2. Can one buy and sell internationally?
Currently we are servicing domestic buyers only – plans to expand internationally with a high demand from international customers (especially from France, London, India and Australia). We post for you:  sellers can now consign and mail their items to Didi's Wardrobe from international locations (as of August 21, 2013)
3. What about sizing concerns?
There is always a concern that items will not fit when purchased online. Many buyers have realized that the cost savings from buying used far outweighs any cost that may be incurred to alter an item. Also, to mitigate any concerns, Didi's Wardrobe also offers a 24 hour return policy if an item does not fit.
4. How can I be sure I'm getting what I want?
Didi's Wardrobe offers a condition rating system to notify buyers on the condition of each item. 5 stars indicates an item is Brand New, never been worn. Most items on the site range from 3-5 stars. If any items have stains or tears, Didi's  Wardrobe will note such defects and assign a 1-2 star rating. Items inspected by DW have a DW item icon.
5. What can we expect next from Didi's Wardrobe?
Bridal! More brides are interested in saving money and this seems to be a practical way to go! The bridal outfit is worn just once and costs a ton of money, as do the clothing for the entire bridal party. Many brides do not have the budgets to splurge on a grand outfit. This way you can enjoy your big day and let others have a memorable big day too!
For more details check out www.didiswardrobe.com
www.facebook.com/didiswardrobe