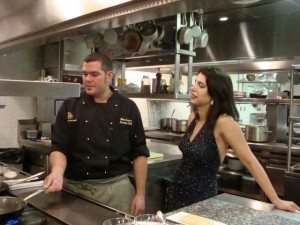 Feeling hungry? Then let's introduce you to New Yorker Divya Gugnani who's turned a passion for food into a delicious new start-up company. This savvy venture capitalist gave up a solid financial career – much before the current downturn – to start a fun new online business called Behind the Burner.
Instead of poring over stocks and bonds and derivatives, her life now revolves around gourmet cuisine, fine wines and an army of chefs! At a time when consumers are taking a detour from fancy restaurants, Gugnani brings famous chefs like Daniel Buloud and Todd English into their kitchens via the website where they cook, chat and share their secrets about how to whip up five star dishes at home.
It's a site for foodies because membership, which is free, gets you food content, videos and also a chance to purchase gourmet ingredients, cook books and wine at discounted prices.
Gugnani, who is a graduate of Cornell University, Harvard Business School, and the French Culinary Institute, merges her passion for cuisine with business chutzpah, having worked as chef and caterer. She says, "I worked in the food industry and I dined out a lot in New York, so I've formed a lot of personal connections along the way." She has over 150 culinary experts participating in Behind the Burner.
Behind the Burner is angel financed by individuals from private equity, venture capital and hedge funds. "I've advised so many companies and built businesses before, so it comes as second nature," says the chef-entrepreneur, who's been written up in Wall Street Journal and Businessweek. "I had always wanted to do an expose of the culinary world, to share the tricks and tips from the front of the house and the back of the house. So, it's behind the burner, behind the scene, behind the velvet rope and has a cachet of exclusivity." We'll drink to that!