Simply Dosa-licious!
By
Lavina Melwani
• Aug 31st, 2010 • Category:
Food
GD Star Rating
loading...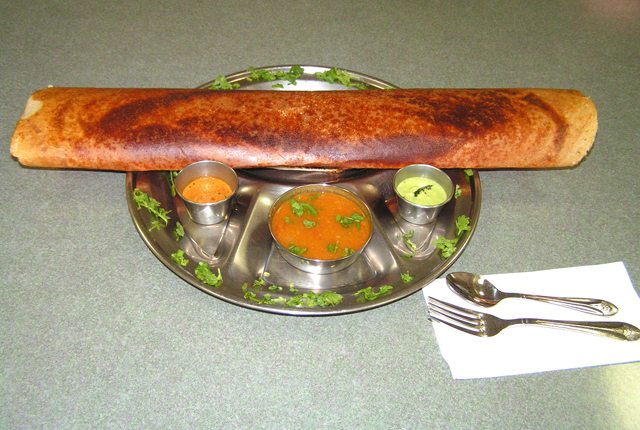 The Dosa Brigade is coming to New York …
Every day, around lunchtime, a crowd gathers outside New York University. Are all these students waiting to go for a movie or a concert? No, they are waiting for the Dosa Man! And sure there's Thiru Kumar, with his dosa cart, ready to cater to all the hungry folks with his delicious Pondichery dosas, vadas and idlis. His is the only dosa cart in a city of hundreds of food vendors.
You could call him a traveling dosa salesman! Kumar, who is from Sri Lanka, has become almost a cult hero for the dosas that he provides to the Village community from his dosa cart. His business is called NY Dosas, and he is always parked at Washington Square Park. The dosa cart is a huge favorite, especially with the campus crowd.
Kumar had tried many other professions earlier but has found his true calling with the dosa cart. He came to America from Sri Lanka through the Green Card lottery but now seems to have hit a dosa lottery
He gets up at 5.45 in the morning to get fresh food ready in his kitchen facilities in Queens. By 11 he's in the city with the cart and has people queuing up for his southern treats right up till 4 pm. Not surprising with the ever-increasing number of vegetarians, vegans and health food fans.
And talk about being easy on the pocketbook! Kumar's sumptuous Jaffna dosas cost just $ 1 and are an intriguing mix of black lentil, red raw rice and natural herbs. How many dosas does he make in a day? It all depends on the weather report! Since his cart is open to the elements, he adjusts his quantity to the number of customers he expects. Still, he generally feeds over 250 people a day, and by 4 pm his cart is empty.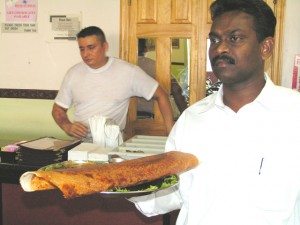 So is New York fast turning into a Dosa-Town? Almost every foodie here seems to know what a dosa is and while they may not be able to find Chennai on a map, they can certainly direct you to their favorite dosa-joint! While dosa restaurants haven't as yet become as ubiquitous as the pizza storefronts or Chinese takeouts on every corner, more and more people are becoming dosa savvy.
Indeed, dosas may soon be the new pizzas as they are so conducive to different fillings. Americans are acquiring an insatiable appetite for those lacy crepes from the south of India and dosa places are popping up all over. Along with the traditional dosas, savvy entrepreneurs are introducing new flavors for a new audience.
Twenty years back even Indian restaurants in New York hardly ever served dosas and one can recall the excitement when Madras Woodlands opened near the UN in the 80's. Unfortunately, it may have been before its time because it didn't last too long. And then suddenly things began to change; as the Indian population burgeoned in the US, along came the demand for all sorts of regional food.
There was a flood of dosa chefs and lots of small restaurants started popping up in the Little Indias offering dosas, idlis, medu vadas and copious amounts of sambhar. Indians of every region were ecstatic for whether they had lived in Bombay or Delhi, a Sunday breakfast at Uddipi or a Madras Coffee House had been a must.
It's either feast or famine, and happily for dosa-lovers it's a virtual feast in New York Jackson Heights, which is the oldest Little India in New York, has several restaurants, which serve dosas, including Jackson Diner and Dosa Diner. You also have Dosa Hut in Flushing, right next to the beautiful Flushing Hindu Temple.
For those who want a bit of spirituality with their dosas, the place to go to is the Ganesh Canteen in the basement of the temple where the dosas, idlis and other south Indian delicacies are made by volunteers and the profits benefit the temple. Divine Dosas, you might say! It's probably the best-kept secret in New York.
In Manhattan several Indian restaurants serve dosas besides north Indian fare. Not far from Empire State Building is Minar, a fast food joint that also has a branch in the Diamond wholesale district of 47th Street. Here, along with the street foods and basic lunch dishes, all within $5, you also find pretty good dosas.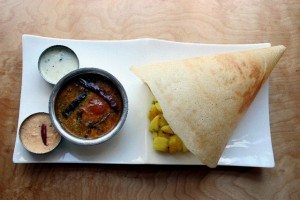 Lexington Avenue and 28th Street, nicknamed Curry Hill, where you can find a dozen small restaurants with dosas sizzling on their tavas. Chennai Garden, Madras Mahal, Deepam and Tamil Nadu Bhavan are some of the dosa joints.
According to Veena Ramaiah who owns Saravanaas with her father, Dr. Ramaiah, the master chefs come directly from Chennai and have been trained under the supervision of the original Saravana Bhavan, the parent company of Saravanaas. She says, "The food is classic but the place is very modern. We have a lot of American clientele – everyone seems to enjoy the dosas."
The specialties include onion rava masala dosa, dried fruit dosa and an onion and chili utthappam. She also serves Mini dosas in mini tiffins, as does her sister Sunitha who runs the café, Bombay Talkie. Dr. Ramaiah is opening a Sarvanas Bhavan in New Jersey, One of the specialties is the six-foot long family dosa. So how does one cook a six-foot dosa? On a seven foot grill! And how do you serve this dosa, which is taller than most Indians? On three plates!
The dosas have marched all the way from New York and its boroughs to the suburbs and you can get a perfect dosa in Hicksville in Long Island as well as in Edison, which is the site of the Little India in New Jersey. In fact Oak Tree Road has several south Indian eateries, where it is possible to get all you can eat dosa menus under six dollars.
One of the dosa-pioneers in Long Island is Jay Jeyasri, whose House of Dosas sees a steady stream of Americans asking for – Gunpowder Masala Dosa! After this volatile concoction was written about in a local review, Jeyasri has had a huge demand for it.
"Americans now eat more spicy food than us," he says. "They take out tissues and are sweating – but they finish it and they love it! We even have Koreans who want it very spicy." Other favorites with Americans are the Spinach Masala Dosa and the Paneer Dosa, while kids love the Cheese Dosa, a triangle filled with Amul cheese. The Cheese Masala is a blend of cheese, onions and potatoes. For the truly adventurous or the geographically confused, Jeyasri even has a Chinese Dosa, which is filled with vegetable noodles and sliced into four pieces!
Dosas are extremely popular at parties and weddings, so Jeyasri finds there's a whole business of catering tied to the dosa business, and often lands with his grills at outdoor functions in the Indian community.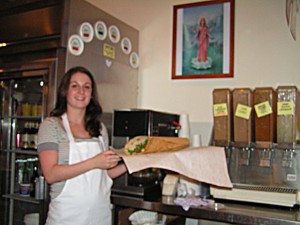 Actually, an American couple, Gary and Isabel MacGurn discovered versatility of the dosa in 1997 when they started Hampton Chutney Co. in Long Island, introducing such offbeat fillings as Grilled Portobello Mushrooms, Balsamic Roasted Onions, Spinach and Goat Cheese and Avocado, Fresh Tomato, Arugula and Jack Cheese. There's even a breakfast dosa with Eggs, Spinach, Roasted Tomato, Cheese and Avocado. Hampton Chutney has dosa shops in both Soho and the Upper Westside in Manhattan.
Their dosas are a blend of east and west and are very popular, with Food and Wine magazine including them in the Best Meal Deal, Time Out in the Best Cheap Eats and New York magazine in the Best Fast Foods.
Isabel and Gary met at the Siddha Yoga meditation ashram in Ganeshpuri, India. They were both doing seva in the ashram kitchen, where devotees cooked for hundreds of people. Recalls Gary: "I used to think 'Wow, dosas are so great – I would make them and eat them every single day and never get tired of them.' I would think dosas would work in America because they're so different: it's fast and it's delicious, it's healthy and it's affordable – everybody is so tired of pizza."
Gary and Isabel cooked dosas and made chutney for five years in the ashram before returning to the US and opening their dosa shop in the Hamptons, complete with Hindu chants and the photos of their gurus on the walls. Says Gary: "We treat he food as we did in the ashram and serve the people with the right attitude. So it's almost like parshad – it's a form of worship – it's serving people as God, you know."
Asked if he had Americanized the dosa, he says, " No, the dosa itself is very classic and traditional and also the chutneys are not changed. But the dosas, we found, are very conducive to any kind of filling and what's so great for me is that so many Indians come in and they love the dosas with the western filling – whether it's avocado or goat cheese or mushrooms."
Indeed, dosas lend themselves to innovation and Hampton Chutney also makes special dosas for children. Says Gary about his young son, "Every day he eats a cheese dosa. He loves it – and it's inspiring for me to see children eating dosas and getting their taste buds accustomed to the different flavors, even chutneys, which is a whole different taste experience from what they eat at McDonalds or at other fast food places."
The other change that Hampton Chutney has made is to incorporate chicken and turkey fillings into the dosas, since so many customers want that. It's a purely business decision.
So whether it's upscale Indian restaurants or dhabas, offbeat fusion places or a traditional south Indian eatery, dosas are hugely popular. Says Gary, "We have people who come to us every single day and they order the same thing every day – and they never tire of it. That's a really rare thing, you know. . We have something for everyone unless someone comes in and says 'Where's the beef?' Then we can't help them."
Besides the scores of Indian restaurants and dhabas, people who need their dosa fix can stop at the nearest Indian grocery store where they will not only find ready powdered mixs for creating instant dosas, idlis and sambhar, but there are also frozen ready made dosas, idlis and uttaphams, along with an assortment of chutneys, which just need to be zapped in the microwave oven.
Ten years down, who knows what we'll find. Dosas being served in American schools and college campuses? Dosas in vending machines? Dosas-to-Go at fast food outlets? In the meantime, both Americans and Indians are fascinated by the sheer genius of the dosa maker, as in a never ending show he ladles out the batter on a sizzling grill and with a swift circular motion, transforms it into a golden lacy crepe, ready to be filled with whatever your heart desires, served with a bowl of hot, spicy sambhar and a smattering of coconut chutney.
A little piece of heaven on earth!
© Lavina Melwani
Photos: 1 & 2 at House of Dosas, 4 at Hampton Chutney (Credit: L. Melwani)
3 at Bombay Talkies (Credit: Bombay Talkies)
GD Star Rating
loading...
Lavina Melwani is a New York based journalist who writes for several international publications. Connect on Twitter at https://twitter.com/lassiwithlavina on Facebook https://www.facebook.com/LassiwithLavina
Email this author | All posts by Lavina Melwani