1,205 People Reached on FB  Lassi with Lavina 30 Likes, Comments & Shares
 Vikas Khanna's 'Indian Harvest' – A Bounty of Vegetarian Delights
"…And Finally to that loving wrinkled hand which gently breaks away

A little piece of bread and blows cold air to make it cool every day

And begins to tell the folklore of imaginary sparrows that flew afar

To the immortal heroes, angels, and fairies that live on a distant star "
A few lines from a poem by chef Vikas Khanna, created in Hindi and Punjabi, and titled 'It takes a Million Hands to Feed a Child'. In it he describes the million hands that feed a child, from sowing of the fields to the nurturing of the grain to the hands that market and knead and serve. He says, "Look at the power of the hands that feed. A little piece of bread in the mouth and a whole cycle of life starts as the mother runs after her child, holding the plate. Even the mothers of the Gods had to run after them!"
Vikas Khanna's new book 'Indian Harvest: Classic and Contemporary Vegetarian Dishes' begins and ends with his poems. No,  it is not a book of poems but a recipe book which is part memoir, part travelogue and part encyclopedia.  In it foodies will find not only traditional and modern vegetarian dishes but art, imagery and food facts too. Khanna, who is the host of  MasterChef India and Twist of Taste on Fox Life in India, is also the chef of the Michelin star rated  restaurant Junoon in New York, and a prolific cook book author.
His last book 'Utsav' was an extravaganza of which only 12 copies were printed, each presented to a world leader who had inspired him, including President Obama, the Pope, President Clinton as well as the Dalai Lama. The copy which was intended for Steve Jobs is now being auctioned, with the money going to charity.
As for 'Indian Harvest', there are enough copies to go around for everyone and vegetarians will enjoy the mix of traditional and contemporary recipes.  It is also a photo gallery of ordinary Indians, out on the streets, going about their work, cooking, working, selling, and you realize what an intrinsic part food is of the daily life of multitudes in India.
In the Kingdom of Spices
More than that, it is an engrossing book to browse if you're curious about the many spices of India. You are guaranteed to come away with a better spice IQ!  Be it Annatto or the Asafoetida flower, you will see it in a whole different light and learn its history. There are colorful anecdotes and descriptions of even lesser known spices such as Triphal, Stoneflower, freshTturmeric, Nutmeg and Clove blossoms.
"It really is a tale of the soil, with sad and happy stories," said Khanna when I met him recently at the launch of the book at Junoon.  "Nature has precision for everything, and it cannot get more sacred than my profession. Take the sacred Tulsi: when a girl got married, she took the soil of the plant and mixed it with the soil of her new home, to create oneness. "
Interspersed  with the photos and the stories are the recipes which put a modern spin on traditional Indian cooking by introducing new items and healthy cooking with the spices we all love. In the starters there are such new dishes as Garlicky Spinach with Mushrooms, Cauliflower with Ginger and Peanuts, and Green Beans in Pomegranate-Coconut sauce. Familiar and unfamiliar ingredients mix together to throw you a little off balance and create interest.  The soups and salads bring an interesting east-west blend and can increase your repertoire of light cooking.
The main course once again has familiar ingredients in modern garb, and oriental ingredients are also initiated into the Indian kitchen. There is Spiced Paneer with Cinnamon, Tofu with Collards and fresh Turmeric, Mushrooms with Mint and Mango Powder, and Bitter Gourd Stuffed with Green Mangoes.
There are also some offbeat rice dishes such as Pumpkin Biryani with Pistachios, Kerala Red Rice with Spinach and Nutmeg, and Roasted Cauliflower Pilaf with Olives.  Great for vegetarians who usually don't have the many choices that non-vegetarian biryani eaters have!  Spiced Curry Leaf Pomegranate Rice and Hibiscus and Green Mango Rice sound intriguing too.
'Indian Harvest' also has a smorgasbord of chutneys, condiments and desserts all using many fresh ingredients and a touch of spices. The images in the book are a visual delight,  such as a spread of earthen pots which anyone who has lived in India will remember. " For me, the cool refreshing water from this pot, with its characteristic scent of the earth, was the closest to any heavenly nectar I could ever taste." Vikas Khanna goes on to share recipes for homemade drinks with freshly ground spices and herbs, using everything from ripe peaches to fresh roses. Winter Cardamom Mocha may be the one to try as the cold weather comes on!
Here are a few recipes from 'Indian Harvest' to sink your teeth into!
Lotus Root Silky Kofta
 A symbol of beauty and purity since ancient times, most parts of the lotus flower are edible – the flowers, seeds, leaves and the rhizome. The lotus root has a beautiful lace like design with tiny holes. It is valued in the culinary world for its mild flavor and crunchy texture. Even in this kofta, lotus root adds a rich meaty texture and taste, added in a creamy sauce flavored with cardamom, cinnamon and fennel.
SERVES 4
1 pound tender lotus root, washed and peeled
1⁄4 cup gram flour
Salt to taste
2 green chilies such as serrano or Thai, finely chopped
1⁄2 teaspoon grated fresh ginger, chopped
2 tablespoons finely chopped fresh cilantro leaves
Vegetable oil for frying, plus 2 tablespoons
1 tablespoon chili powder
2 red onions, finely sliced
2 cardamom pods, lightly crushed
One 1-inch cinnamon stick
1 teaspoon fennel seeds
1 cup heavy cream
Cut a 3-inch piece of lotus root into roundels, about 1⁄8-inch thick, and finely grate the remaining lotus root. In a mixing bowl, combine the gram flour, grated lotus root, salt, chilies, ginger, and 1 tablespoon cilantro and knead to a smooth mixture. Add a little water if required. Make 10 to 12 small round balls.
Heat the oil to 350°F and deep-fry the balls in batches until golden. Remove them with a slotted spoon and drain the excess oil onto a paper towel. In the same oil, fry the lotus root roundels until golden brown. Remove with a slotted spoon and drain the excess oil onto the paper towel. Reserve for garnish.
Heat 2 tablespoons oil over medium heat. Remove from heat and add chili powder. Reserve for garnish.
In a medium pot, boil the onions, cardamom, cinnamon, and fennel seeds with 3 cups of water on high heat until the water reduces to half and the mixture becomes thick. Remove from the heat and let it cool at room temperature. Transfer to a blender and process to a smooth paste.
Now shift to a saucepan and bring to a boil on medium heat. Add the cream and season with salt and gently simmer.
Transfer the sauce to a serving dish and arrange the lotus balls over it. Drizzle with chili oil and serve garnished with lotus root chips and cilantro.
Thai Eggplants in Ginger-Cashew Curry
Sweet and creamy eggplant is simmered with tender melt-in-the-mouth plantains in a rich and delicious cashew curry spiced with ginger. Thai eggplants are generally small and round, and they can be found in a variety of colors—green, white, and purple.
SERVES 4
1 cup raw cashews

3 tablespoons vegetable oil

1 red onion, finely chopped

2 cloves garlic, chopped

One 2-inch fresh ginger, peeled and finely chopped
1 green chili, such as serrano, finely chopped

1 pound Thai eggplants, stemmed

2 plantains, sliced

1 tomato, finely chopped

Salt to taste

10 to 12 fresh basil leaves
Heat a heavy-bottom skillet on medium heat and dry roast the cashews until fragrant and darker in color. Remove from the heat and purée them with 1⁄4 cup of water into a fine paste.
Heat the oil and fry the onions, garlic, ginger, and chili until the onions begin to caramelize, about 7 to 8 minutes.
Stir in the Thai eggplants, plantains, tomato, and salt and fry for 1 minute. Add 1 cup of water with the cashew paste and bring to a boil. Reduce the heat and simmer until the vegetables are cooked and the sauce is thick. Add a little more water if required.
Serve hot, garnished with the basil leaves.
Bitter Gourd Stuffed with Green Mangoes
The sweet-and-sour tartness of the unripe mango, smoky cumin, and licorice fennel perfectly offset the bitterness of the gourd. Bitter gourd is an extremely popular vegetable in Indian cuisine, partially because of the health benefits it brings to the table. It was one of my grandmother's favorite vegetables.
One of the more popular ways to reduce the bitterness of the gourd is to rub the slices with salt and leave them to rest for 15 to 20 minutes. Rinse them before cooking.
SERVES 4
8 to 10 tender bitter gourds
2 teaspoons ground turmeric
Salt to taste
2 tablespoons vegetable oil, plus more for frying
3 to 4 dried red chilies, broken in half
2 teaspoons fennel seeds, coarsely crushed
2 green mangoes, grated
One 1-inch fresh ginger, peeled and minced
1 green chili, such as serrano, minced
1 teaspoon coriander powder
1 teaspoon cumin powder
Juice of 1 lemon
Cut the tips off the bitter gourds and gently scrape them with the back of a teaspoon. Cut into 21⁄2-to-3-inch rounds resembling cannelloni. Scoop out and remove the seeds with the back of a spoon. Evenly rub them with 1 teaspoon of turmeric and salt. Let them rest for at least 30 minutes at room temperature.
In a medium pan, heat the oil on medium heat. Add the red chilies and cook, stirring for a minute. Remove from the heat and, using a slotted spoon, remove the chilies and reserve for garnish.
Heat the infused oil and add the fennel seeds, grated green mango, ginger, remaining turmeric, green chili, coriander powder, and cumin powder. Cook, stirring continuously until the mixture becomes dry and fragrant, about 4 minutes. Season it with salt and lemon juice. Remove from the heat and keep warm.
Heat the vegetable oil for frying to 350°F.
Gently squeeze the bitter gourd slices and pat them dry with a kitchen towel. Carefully fry them until they are darker in color and slightly crisp.
Remove them with a slotted spoon and drain the excess oil onto a paper towel. Fill the gourd slices with the green mango mixture and serve hot, garnished with fried red chilies.
Related Articles: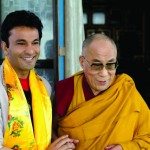 Vikas Khanna's Himalayan Journey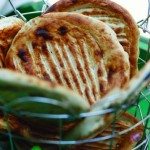 Return to the Rivers: Recipes from Vikas Khanna