Looking to find the perfect restaurant in your area online or via mobile phone? Searching for videos to check out the best tips from celebrity chefs?
Well, there's good news – behind each of these culinary experiences, there's an innovative company launched by young Indian-Americans who probably have food and hospitality etched into their DNA! Sidestepping traditional careers, these entrepreneurs have followed the pungent aroma of spices and flavors of food to start their own businesses.
Divya Gugnani of New York was recently named among the 100 Entrepreneurs You Should Follow and Learn from on Twitter. A young Harvard Business School MBA, she gave up a solid career as a venture capitalist to venture back into the kitchen with her own start-up, Behind the Burner. Starting from scratch, she's built up a loyal following and has over 270 noted tastemakers on board for her online site which has become the place to meet celebrity chefs, sommeliers and nutritionists, see them in action and even buy their books, videos and merchandise.
Behind the Burner videos are syndicated to NBC New York Nonstop and over 47 online video sites including YouTube, Dailymotion, MySpace, Howcast and 5min. The website, with its entertaining and educational content has an avid following of armchair foodies.
Gugnani, who grew up in a family where the upcoming lunch was discussed at breakfast, and where the upcoming dinner was the subject at lunch, has always been passionate about cooking and is a graduate of the French Culinary Institute which she attended while working at Goldman Sachs as an investment banker. She indulged her foodie passion by working part-time as a caterer and apprenticing in restaurants to fine-tune her skills.
"The chefs, bartenders, sommeliers, and restaurateurs I worked with changed the way I thought about food and beverages," she says. "It was a true education to both work in the field – and also be a guest on an expense account!"
Finally, while working in a venture capital firm, she decided to take the plunge and start Behind the Burner. Gugnani is a firm believer in the power of social networking and programs like Twitter to get the word out.  While the cooking videos are on several outlets, they are now also on Apple devices via the Behind the Burner iTunes podcast.  "I'd like to build our reach with a national TV show and series of books," she says.
Ajay Rajani, an investment analyst, has also used the power of the Internet to get the word out about the hottest restaurants, bars and food services through TasteSpace, a multi-faceted search engine and centralized index of bars and restaurants that he co-founded in 2007. It was anointed as a killer startup by the leading technology site KillerStartups.com, and has been featured in major media outlets like Fox.
Rajani, who was an analyst at a private equity firm in Greenwich which specialized in investing in companies for the long term, says: "I got my first taste of entrepreneurship there and have been addicted every since."  He started TasteSpace in response to the issues he was having with other restaurant search engines and content providers: "As the de facto event planner and venue picker for my circle of friends, I found myself continually hitting walls and obstacles when using other engines such as CitySearch and MenuPages," he says.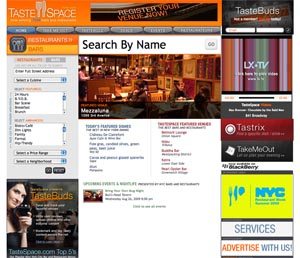 "I found the existing options to be irritatingly boring and simple, dumbed down utilities with almost no focus on innovative technology or design.  We invested aggressively in a new age design and some fun search engines like Take Me Out (tastspace.com/takemeout) which lets you search for venues for a first date, blind date, fling,  "extramarital affair", girls night out, or night with friends who are young and reckless or mature but young at heart."
The site also lets you search by dish, so if you are looking for a Mushroom Risotto in Chelsea, you can use the "Tastrix" feature to find all the restaurants in the area serving that dish.  A handy feature when you happen to be the one vegetarian in your party or the one allergic to nuts!
Rajani started TasteSpace in response to the struggles with the options existing at the time and the exploding foodie blogosphere: "We wanted to make all of that blog content searchable to the casual user and not just the foodie enthusiasts who read them diligently day in and day out," he says. " Our blog crawler allows us to do that by searching our approved list of foodie blogs for each venue in our system, and creating links to those blog entries on the appropriate venue profiles, positioning TasteSpace as an umbrella catalog to all that wonderful content already available but hard to find on the internet."
He adds wryly,  "This way before you make the commitment to one bar, you can find out things like if there is a cover fee that night, what the male: female ratio is, and if the bartender who kicked you out last time is still serving!"
TasteSpace is also working on an enhanced review engine that will allow users to not only search for reviews on particular restaurants, but dishes at those restaurants.  He says, "Before you order your General Tso's chicken at Restaurant X, you can read reviews on how fried or soggy or spicy other users have found it." The company is currently creating partnerships to bring the technologies to the underserved markets in the Midwest and west Coast, and is launching TasteSpace Boston in the coming weeks.
With the great hunger out there for discovering that hot new happening bistro and the hot new uber chef, California-based Nihal Mehta and Deepan Shah have taken the excitement of the culinary search to the ease and portability of the mobile phone with Buzz'd, which received $3.5 million funding from the Blackberry Fund. The two entrepreneurs are veterans of the start-up game, having earlier created ipsh!  – one of the first mobile marketing companies which was acquired by Omnicom Group.
Buzz'd, which recently announced partnerships with Citysearch, Helio, Flavorpill and Time Out New York,  is a mobile local search service which clues you into the best restaurants, events, bars based on your location and in real time. As their blurb states:  'Your city. Real Time.'
"We wanted to know what was going on inside the bar across the street right now," says Nihal Mehta when asked why he and Deepan Shah started Buzz'd. "How long was the line? Was it crowded inside? What was the guy/girl ratio? Then we saw the bar turn into the restaurant into the museum into the park. People wanted to know what was happening at venues in real-time, vs traditional static listings of Citysearch, Yelp, and others."
He says that events are the most popular feature on Buzz'd, followed by restaurant searches. "People want the full experience. Drinking, dining and dancing." Personally, how much is he into eating out and finding new places? "Quite a bit," he says. "You can see where I go and what I eat on Buzz'd. I share these experiences via the community."
So what's the next innovation on the drawing board? Says Mehta: "Aggregating real-time activity around certain locations. People want more than reviews. They want a sense of what is happening now. The Buzz'd iPhone app will be available by October."
Taking the cooking metaphor a bit further, these young entrepreneurs throw in their unique ingredients into the big melting pot of America, and it will be interesting to see what they cook up next.
© Lavina Melwani