Ayub Khan-Din: The Teller of Tales
By
Lavina Melwani
• May 21st, 2009 • Category:
People
GD Star Rating
loading...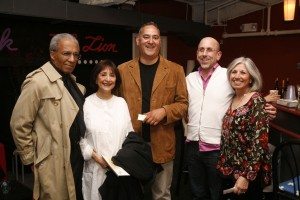 It won the 2008 Olivier Award for Best New Comedy in London and then wowed them in New York. 'Rafta, Rafta…' which had an opening at London's National Theater last year just had its US premiere on Broadway. The play, by noted London playwright Ayub Khan-Din, is hugely popular and is drawing audiences with its story of a newly-wed Indian British couple trying to consummate their marriage in a tiny apartment surrounded by in-laws.
Ayub Khan-Din, an astute chronicler of the new Britain where south Asians are very much a part of the landscape, brings all the right nuances to this tale of the generational divide in the Asian community where sex and marriage are concerned. After all, he knows the dilemmas and peccadilloes of this community well – having himself been a part of it. Ayub's first stage play 'East is East' in 1997 was almost autobiographical about his own mixed race family growing up in the working class town of Salford in the 70's and went on to become a huge hit, later being made into a movie of the same name.
Ayub, who was an actor before he became a playwright, starred in several films in the 80's, including the leads in 'My Beautiful Laundrette' and 'Sammy and Rosie Get Laid.' Being an actor of color in Britain in those days was not easy and the roles were few and far-between.
"It was difficult because Asians were not portrayed that much on television and when they were, they were really stereotypical kinds – usually corner shop people or doctors or shopkeepers or the victims of a racial attack, and you were more a part of the scenery. It's much easier now – it could be better but it's hundred times better than when I first started acting."
He recalls that his father left a small village in Kashmir in undivided India in 1930 to join the merchant navy and set off for the west. He left ship in London and worked in a munitions factory in Birmingham before he married an English woman, opened a fish and chips store and settled down in Salford, Manchester. They went on to have ten children, and Ayub was the youngest, born in 1961.
Ask him how it was growing up as a child in a mixed race family back in the 60's and he says, "It was very difficult. My father, I think, was not particularly integrated at all – his English was never great – and there was always this kind of double standards – 'You do as I say, not as I do.' It was OK for him to marry my mum but he wanted all of his sons to marry Pakistani girls! We were so different, – we were completely integrated in the western society we had grown up in. The only time we saw a lot of Asians was when we went to Bradford to visit my father's relatives."
After school and before joining drama school, Ayub was even a hairdresser – as he told an interviewer, "So I got me a job as a hairdresser and I was the worst hairdresser in Manchester. I never got further than sweeping the floor and washing people's hair." Yet all his childhood experiences of growing up in a mixed race family in Britain became grist for his writing, and he wrote 'East is East' when he was still in drama school. It went on to become a very successful play, and was also made into a movie starring Om Puri.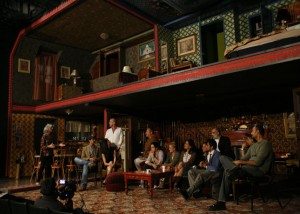 His other plays include 'Last Dance at Dum Dum' and 'Notes on Falling Leaves.' The latest play, 'Rafta, Rafta…' is an adaptation of Bill Naughton's story 'All in Good Time' but transposed on to a British Indian family, and thereby comes its freshness. This U.S. premiere, directed by Scott Elliott, stars Ranjit Chowdhry, Sarita Choudhury and Sakina Jaffrey and several New York based actors. Ayub is on a roll and has been commissioned to do plays both by the Lincoln Center in New York and the National Theater in London. Next on the agenda is 'Rafta, Rafta.. .' the screenplay for a movie.
Ask Ayub about whether he feels connected to his South Asian roots, and he says, "It's a part of my ethnic makeup and it's always going to be there. I embrace my ethnicity but as Nitin Sawhney said, 'It's beyond skin'. You are where you are from and I'm a European." He is addicted to Indian food and says, "I can't go a week without having any curry! You can say that about most English people now – they won't go a week now without having some Indian food."
His own family is even more multicultural: His wife Buki is half English and half Nigerian and they have chosen to rear their daughters, Isabel, 5 and Mimi, 4, in Spain. Interestingly enough, his daughters love Bollywood films – 'Dil Se' is a particular favorite and anything with elaborate dance scenes are big with them.
While his father may have left India decades ago, Ayub's connections with India are just beginning. He has been back to India several times, including backpacking in the 80's. He also worked in a film with Mani Kaul – 'The idiot' which co-starred Shah Rukh Khan long before he became a superstar.
He himself is being drawn to the subcontinent with his next venture – 'West is West' which is a follow-up to 'East is East' and takes the family back to Pakistan to sort out unanswered issues. He is currently looking at Indian directors and actors and watching a lot of Hindi films. He says, "In Mumbai the technicians and the standard of filming is just so high, you've got the whole infrastructure of the studios and backlots and everything that you need."
In spite of all the conflicts, his life and his father's coincide in more ways than one: "My life and my father's life have come round full circle and passed each other. He left the village in Kashmir in the middle of nowhere to come and settle in a modern city but I've just left a modern city to go and settle in a village in the middle of nowhere in Spain."
Ayub has very deliberately given up the big city life for Frailes, a small village in Andalusia in the lush olive growing area where there are no signals for mobiles or computers. He takes his laptop to the local bar where his wife and he sit and have breakfast, while the children go to school.
"We just enjoy the peaceful Spanish sky and the peaceful weather," he says. He is looking to build a house in the mountains and was exploring the land with a friend, water-diving with two twigs to determine if the area was suitable to build. This is the ancient method which is used in many parts of the world, perhaps even in the very village where his father grew up in Kashmir. Then the next day he was in the heart of Manhattan, in Broadway seeing his latest play unfold before a cosmopolitan audience in the most glittering city in the world.
© Lavina Melwani
Photos: IAAC/Michael Toolan
GD Star Rating
loading...
Lavina Melwani is a New York based journalist who writes for several international publications. Connect on Twitter at https://twitter.com/lassiwithlavina on Facebook https://www.facebook.com/LassiwithLavina
Email this author | All posts by Lavina Melwani