Leela Majumdar

– Stories for our World…
I
n our hi-tech, virtual world where blogs, tweets and e-mail rule, is there place for a good old-fashioned story lovingly told? Seduced by  smart phones, i-pads and laptops, can we still revel in a classic, slowly unfolding  story – and that too on a blog? In this era of information overload and short attention spans, can we wander in a bygone world and enjoy the experience?
The stories we read and the stories we write help shape us and create the scaffolding for our world. So this holiday season let's share a beautiful piece of fiction by the great Bengali writer Leela Majumdar –  a story about love, compassion and humanity.
This classic Bengali story has been translated as a labor of love by New York based human rights activist and writer Partha Banerjee who has translated several Bengali short stories and would love to find a publisher for them.
"If you can think of an analogy, the original story is sometimes a diamond in the rough in terms of its non-availability to readers outside of that particular language," says Banerjee. " In case of Indian languages, it's even more true, because there's such a global undermining of our traditions, heritage and culture in this day and age of instant, carnal sound bytes.
Translation of time-tested literature can do so many things in so many ways, other than just telling the story in a 'more universal' language to a global audience. For the people who still believe in a non-materialistic, humanistic lifestyle for themselves and for their children, value-based literature, art, music, movies, or even food habits can do wonders. The Tagore and Ray families, among the galaxy of twentieth and nineteenth-century thinkers,  have taught us what to do, and how to do it. Leela Majumdar is definitely one of those teachers."
Ahididi's Friends
by Leela Majumdar
(Translated by Partha Banerjee)
When Ahididi's[1] husband got pension after retirement and moved his family out into the middle of nowhere by a newly-opened handicrafts school, and became its near-zero-pay principal, some called him crazy, some called him stupid, and the majority said, 'This is exactly what someone like him would do!' Although, his family was none other than Ahididi and her wrinkled-old mother-in-law.
Of course it wasn't completely in the middle of nowhere, for it was perhaps once a bustling city. A small river fell into the great Ganges; once upon a time, it was a great port, and really a trade center where huge cargo ships dropped anchors. Vestiges of the docks were still visible. A while ago, while cleaning out the remains, a few brave boys hired by the rural development commission came across a few rusty, old anchors and human skeletons, and ran for their lives.
Ahididi's brother-in-law Dharani said there must have been hundreds of sunken ships in that spot. He said if the government had opened a cleaning commission for the old docks instead of the handicrafts school, there would have been three times as many jobs available, and everyone could get rich off of the buried treasure. Although Ahididi's husband Suren Babu[2] instantly waved away the idea, she actually went ahead to check the place out and was deeply disappointed. The water in the dried up rivers would rarely become knee-deep even in the monsoon, and the bottom of the river was hard as a layer of brick.
It was late by the time Ahididi got back. Her old mother-in-law was cranky as usual, the milkman came and left after finding no one at home, there was nobody to go get fish at the market, and on top of that, the clay stove's flame went out.
It took Ahididi about four days to get settled. The area had a lot of ruins and remains. Owners reconstructed some of the structures to make them habitable. A few houses had completely collapsed, leaving nothing but brick piles and perfect habitats for snakes. The rest of the houses were counting days. Considering this, the neighborhood folks were surprisingly calm about their surroundings.
There were big mango and jackfruit trees all over the place that bore no fruits, presumably because nobody took care of them. There were also huge ponds, the muck of which was never thrown out; there were more frogs than fish there. An ancient stone Vishnu temple with Lord Vishnu and Goddess Laxmi adorned in flint lay in the village. With no priest, the villagers were the ones that came twice a day with holy water and flowers. Supposedly, this was a ritzy neighborhood of the sea merchants before. Therefore, hidden treasure would not have been a surprise.
Even if the mornings didn't look so bad, after sunset the place looked terribly desolate; plus it was pitch black all around. Back there on the alleys of Kolkata, they'd be able to distinctly hear the neighbors talking. The houses were so close to each other that even burglars couldn't sneak in. As soon as the daytime noise died down, the nighttime clatter would begin – it would only be a little quiet for two hours, maybe, from two to four, early in the morning. Around here, it was practically midnight immediately after sunset.
Suren Babu hadn't asked around about the house before renting it; he brought his family over without checking it out. There were no other families nearby: it was in the midst of a bunch of deserted buildings and an ancient mango grove. This house itself was now only a fraction of what it used to be; the rest of it was in tatters. However, they'd repaired this one section well. It seemed like it was perhaps a portion of the interior of a rich trader's mansion.
On the south, there were three adjacent rooms with marble floor, with a bathroom in the corner. On the east side was the kitchen with an attached pantry. You wouldn't even need a separate pantry: nobody would come and steal even if you'd left everything out, unlocked. Contrarily, in Kolkata, they had to put a net over the window bars, or thieves would swipe even an old towel. And here, she'd forgotten a brass urn out in the open; in the morning, she discovered that instead of losing it, she'd actually gained a little: fully ripe, juicy, flavored limes had dropped from the top of the lime tree directly into the urn.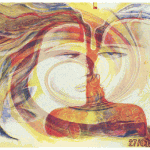 The kitchen had a wide porch in front, followed by a cemented courtyard. The yard had a well, a lime tree, a stick-legume tree, a Bel tree, and across from the kitchen was a rundown barn. It may well be that the last time cows were milked in there was fifty or sixty years ago. Everyday now, the milkmaid brought Ahididi two kilos of pure, thick, creamy milk in the morning and half a kilo in the afternoon. The cranky mother-in-law wouldn't step into the kitchen these days; it was actually a blessing. She'd drink a bowl of freshly-boiled milk twice a day, which would be separately saved. The milk for the tea would also be put away. The rest of it would be left on simmering heat; it'd form a half inch-thick cream on top.
The cream was gold-colored, with cracks and crevasses on it like the surface of the moon. At night, Ahididi peeled it off carefully, sprinkled large-grain cane sugar on it, and folded it away. Mother-in-law ate a small chunk, Suren Babu got to eat some of it, an occasional visitor got a bite, and Ahididi tasted a little. The kitchen door had a push-on chain on top; the school authorities have put new nets on the windows to prevent cats from leaping in. The cream stays intact and wholesome inside the kitchen.
There's normally a few fish cooked for lunch. For dinner, Ahididi made a stir-fried curry and fried a few pieces of triangular bread. The cooking didn't take any more than an hour.
Today, the wife of the school's factory foreman paid an afternoon visit. She said, "Oh my, aren't you scared, sister? Didn't you see the big gaping hole on the barn wall? A couple of young kids or even a slim man can easily slip in through it. And you leave all your milk and cream and pots and pans scattered around just like that with no locks or nothing, and catch the radio play in the other room! I can't believe it!"
Ahididi and her husband thought she was being ridiculous. However, at night, she went into the kitchen with the lantern and discovered that someone had ripped a piece of the cream, spilled milk on the floor, and wiped their little fingers on the newly painted wall. She decided not to mention it to anybody; only sliced the cream off of the ripped side, and put sugar on the rest of it. She started to ferment a stone bowl of yogurt using the leftover milk, and covered up the rest with the stone grinder slab on top. She stored some milk separately in a can to make tea. The incident was discomforting.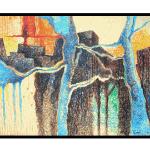 In the morning, she went back to check out the barn. Inside, it had nothing but some sundry materials for home repair. But the wall indeed had a hole. Suren Babu arranged to fix it right away. A little later, the fisherwoman showed up and sold at a very low price a whole bunch of freshly caught silver shad. Ahididi deep-fried all the fish in mustard oil, made a spicy curry with half of it, and saved the other half in a container hanging from the kitchen ceiling. In the evening though, she found that the container had tumbled and was almost empty, with the fish scattered all over the floor. Ahididi was stunned.
She looked at the barn. The other side of the shed didn't have a wall; it only had a low, bamboo fence. Suddenly, in the darkness, she felt as if a number of little heads was lurking and lurching to make room for a better view.
Ahididi's heart pounded. Oh, thank you Lord, so there were indeed children to be found in this desolate place. Back in Kolkata, there were no kids nearby; the house was bereft. Ahididi's own sons and daughters had grown up and moved out. Mother-in-law despised children. Nobody would ever come to their place, nobody would ever want to hear stories, or ask for goodies. It was a God-forsaken home.
Ahididi raised her voice, "Who's it that steals my fish and drinks my milk?" First there was some pushing and pulling, and then it was all quiet.
Ahididi said, "Come out here. I'll give you pink fluffy candy, fried fenugreek. I'll read you fairy tales too."
Slowly but surely, the little souls scaled the bamboo fence and appeared out of the darkness. It was eight or ten very thin children, practically naked, with undone, dry hair. They exposed their white teeth and giggled.
Ahididi opened her candy box and said, "Come over here and put your hands out." At once, ten dirty palms extended. Ahididi put one candy and a pinch of fried fenugreek on each of them and asked the one in front, "What's your name, kiddo?"
The boy said in a nasal voice, "Bangesh."
"So is this your gang? Listen to me – don't touch the food at all, okay? Touching would spoil old Grandma's special meal[3]. Next time, come to me: I'll always have something for you."
Bangesh asked, "What will you have?"
"Why, for you I'll have rice puffs and lozenzes, I'll give you paan, I'll give you salty little wafers, cookies, potato and coconut curry, and crispy-fried baby shrimp. But make sure you don't grab anything on your own, alright?"
The deal was made.
Ahididi brought the kerosene stove over, started to size up flour dough, and said, "Now you eat first and then sit down over there. I'll tell you a story of the island mermaids."
All of them rushed forward and squatted on the cemented yard. Ahididi said, "Way back when there was a naughty boy named Ramesh. He didn't have his mother; he only had a stepmother."
Bangesh interrupted, "It was Bangesh, not Ramesh."
Ahididi said, "Okay, fine – it was Bangesh. The stepmother wouldn't have anything for him to eat or wear. She'd make him work from sunrise to sunset. The poor kid didn't have a place in the house to sleep; he'd sleep with the goats in the barn…"
She continued her story and the boys continued to come up closer. She finished frying the bread and cooking the curry, and the story ended too. At first, there was a little envy, elbowing and moaning for the best seat; in the end, however, it was total quiet.
Ahididi was done, "…Then, a bleeding, groaning, panting and weeping Bangesh slammed hard on the banks of the sea. Suddenly, the scrawny old woman's boat came ashore. And lo and behold, bright light started radiating from the old dem's body and she transformed into a beautiful mermaid. Bangesh cried out, 'Ma, Ma!' and jumped in her lap. The boat sailed away, away to the island of fairies, for good."
The children moved up close to Ahididi almost touching her with their knees, and crammed in a huddle. Ahididi put out the stove, boxed up the food and said, "Alright my sweet little champs, now it's time to feed the old Grandma. Come again tomorrow, okay? I'll make tiny-winy stick snacks and tell you the story of the dung-picker who turned into a queen."
She pushed in the kitchen door lock and turned back, only to find the children were all vanished in an instant.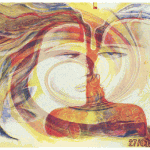 The food burglary had stopped from that day. Further, Ahididi wasn't alone anymore. She had no more after-dark worries. No thieves, goblins or bad people would be able to sneak by those brats. Bangesh sucked on the dried mango pulp and said, "Nobody can slink past us, Ma."
That night, Ahididi finished her new story and said, "So, tell me why you boys are so stick-thin. Where in the world do you all live?" Bangesh pointed his finger to the ancient grove and said, "We come from w-a-y over there." Ahididi said, "And what's with them: how come they don't speak?" All of them had a major snort together. Bangesh said, "They're shy, Ma. They're the boys with no tongues." Ahididi snapped, "Heck no, kiddo. In Bangla, someone with no tongue means the one who speaks too much, don't you know? Well, tomorrow I'm planning to make some palm-candy fruitcakes and soft palm cream. Are you interested?"
The entire gang was extremely pleased to hear the plan. Ahididi was pleased too. She knew the poor, unfortunate children must've starved all their lives, must've lived in leaf-made huts in the woods, and their poor parents must've been desperate and abusive too. Oh Good Lord, make them happy.
About four months passed by. The authorities built a new teachers' housing quarter next to the school building. Ahididi however wasn't quite ready to move out. She said, "Oh no, is it ever possible to move in the middle of the winter, and that too, before the Paus-Parvan[4]? We'll wait until after the festival."
She'd grown great affection for the kids; it was them that made her past few months happy and content. She knew they would not want to come to the newly built quarter. She didn't know how to break the news to them. They must be heartbroken; after all, who'd now give food to those starved little rascals?
On the day of Paus-Parvan, Ahididi made sweet cheese wafers, cream-cheese balls, coconut cakes and sweet milk churn, and served the family and neighbors a delicious meal. Suren Babu's colleagues were in high praise. Mother-in-law didn't care about her dietary restrictions: she ate three wafers and a whole bowl of milk churn. After everybody had left, and Suren Babu went off to play cards at Mukanda's, Ahididi went out to the porch and called out, "Hey you kiddos, where are you all? Come quick." In an instant, the ten little brats appeared with a wide grin on their faces. Ahididi fed them to her heart's content. But first, she poured water to wash their hands.
After the feast was over, Ahididi made each a paan and said, "So, do you know we're leaving?"
Bangesh said, "Yeah."
"Won't you come to our new house?"
All vigorously shook their heads to say no.
Ahididi said, "I'll be sad." She wiped tears with her sari. All sobbed and wept a little through their noses. Then Bangesh said, "We won't be around anymore, Ma, we're leavin' too."
"Where'll you go? Come back to me anytime, okay?"
The little faces glowed in delight. Ahididi put the kitchen lock up and returned; again, all of them had disappeared in a second. It felt though as if it was the last time she'd seen them. She was very sad.
The next morning, Ahididi arranged for all the household items to be boxed up and moved, put mother-in-law and Suren Babu on a cycle rickshaw, and lied to her husband for the first time in her life. She said, "You go on. I need to pay up the milkmaid; will be back soon."
She went back to check out the yard, the barn and the area around the trees. The bamboo fence had been repaired, but they'd scale it with no trouble. Ahididi went into the mango grove and walked quite a distance through it, but couldn't find signs of a hut or slum of any kind. Finally, she gave up seeing them one last time, and took a rickshaw back to the new quarter.
Two months later, their younger son-in-law got transferred to South India, and the couple left the grandchildren with Ahididi for a long time. Then one day, the milkmaid suddenly brought it up, "Now that you've moved here, I can say it. We just didn't know Ma how in the world you'd all lived in that haunted house for so long. The villagers never go there: they're so scared of the boys with no tongues. Didn't you ever notice anything strange?"
Ahididi froze. Mother-in-law asked, "What're you talking about, girl? What in the world do you mean by no tongues? We've never seen anything strange back there, have we, Bouma[5]? Who are they?"
The milkmaid replied. "Oh Mother, didn't you ever know? The old ruins once belonged to a rich merchant. Long time ago, the day after the Paus-Parvan feast, a bunch of poor, hungry kids from the cowherds' village scrambled at the palace to find some leftover cakes, and threw quite a big fuss. The merchant was so cruel that he ordered his men to cut off the boys' tongues. The oldest one got away…Well, that itself happened some two hundred years ago. We the poor village folks still tell tales about it.
They say, since those days, mango trees in the groves had stopped growing buds, and they never bore fruits…but you know what, Ma? Just this morning, for the first time ever, the trees showed signs of sprouting. Isn't that a miracle? I must take your leave now, Ma. This is very auspicious for us. Today, we shall offer special prayers to our gods."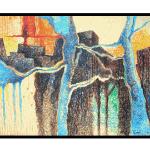 ###
[1] Didi means an elder sister.
[2] Synonymous with Mr. or Sir.
[3] Traditional Hindu widows, strictly vegetarian, would not eat food touched by a stranger.
[4] Middle-of-winter post-harvest, traditional ceremony in Bengal.
[5] Parents-in-law would call their daughters-in-law Bouma; it literally means the bride mother.
About Leela Majumdar
(February 26, 1908 – April 5, 2007)
Leela Majumdar was the daughter of  Pramada Ranjan Ray, the younger brother of  Upendra Kishore Ray Choudhuri,  Satyajit Ray's grandfather.  As The Telegraph, the Calcutta newspaper, noted,  "She belonged to that brilliantly innovative tradition of children's writing — enlightened, eccentric and hilarious — founded by Upendra Kishore, perfected by his son, Sukumar Roy, and then bequeathed to Majumdar and Satyajit, who made it part of their own genius."
Leela Majumdar 's writings continue to have an impact on those who grew up with her stories as well as  on those who are just discovering them, often in another language. In fact, there's a Facebook group devoted to her work.
As The Telegraph wrote, "The bereft, the displaced and the underdog — be they frightened children, untameable cats or hungry ghosts — always found a place in her unsentimental acts of empathy, committed as much to giving pleasure as to telling the whole, and often heartbreaking, truth about human lives."
You can read the full article about Leela Majumdar
here
(Illustrations by Dipanjan Bose)
What did you think of this story?  Would you like to see more fiction on Lassi with Lavina?