Bengali-Americans

and

Kolkata's Food Delights
For those who've lived in and loved Calcutta – or Kolkata as it's now known – feasting is an important part of life. Here four Bengali-Americans share their best memories of the city's innumerable, incomparable eats: Partha Banerjee, NY activist, talks of his favorite haunts in his favorite city; Mukti Banerjee, home cook, shares some delicious Bengali food through her meetup group in Brooklyn; Kriti Mukherjee, foodie and consultant reflects on the importance of food in a Bengali's life,  and businesswoman  Priyashmita Guha shares a tale about eating street foods with her father in Maddox Square.
Kolkata

Street Foods:
Partha Banerjee, NY activist and writer: On the Street foods of Calcutta which he and his wife Mukti relished during college days when the appetites were big and the budget was little.
Best treats for the locals: Aloo-Kabli (potato with chickpea mixed with various salts and tamarind paste); puri kachori; samosa; Phuchka (pani puri) on a hot summer day; Pakora (fritters) made of eggplant, onions, cauliflower, etc. with besan (chana powder) and hot chutney; Papad on a rainy evening, like the Rath Yatra evening; Mutton roll from small dhabas , Mughlai Paratha at Esplanade's Anadi Cabin
And then there are so many small, roadside restaurants that we often visited — like Lahore Restaurant for roti and chicken curry, or maybe, occasionally, Madras Dosa. On sizzling summer days, kulfi with rice noodles and rose syrup at Rally Singh in Esplanade next to the Metro Cinema.
Rally Singh is still there, and so is Anadi Cabin. Lahore Restaurant on S. N. Banerjee Road next to Elite Cinema is gone.
Best treats for the tourists: They must try the fish dishes and Bengali sweets – these are the two things Bengali cuisine is perhaps the most famous for. Nowadays, the small places in Kolkata are not doing very well. Instead, there are many new fancy places, such as 36 Ballygunge Place, for a Bengali full-course dinner, Oh Calcutta, Bhaja Hari Manna. The first one in my opinion is perhaps the best of all, for the quality of food and the environment.
Calcutta Memories:
Once, during our university days, Mukti and I decided to eat Mughlai Paratha at the dingy but always-crowded Anadi Cabin. By the time we finished, we realized we had no money to pay for it. Yes, that's how those days were for us: penniless, no jobs, yet a lot of dreams and fun. Anyway, Mukti was nervous  – you can also call it sanity and common sense, but I wouldn't be so easily put down. I remembered I knew somebody who worked at the USIS library at the American Center right across from the restaurant. She was luckily there and saved us from who knows what…
Priyashmita Guha , Businesswoman, Calcutta native now in Bangalore. She blogs at worldasisee.wordpress.com
Best Treats: Muitha, Ilish macher paturi, Chingi macher malaikari, Tel koi, Doi mach
Best restaurants : 6 Ballygunge Place, O Calcutta, Bhojohori Manna
Calcutta Food Memory:
The one thing I remember about street food was the food available during Durga Puja…we were brought up in Maddox square which is like the 'in place' for Durga Puja celebration and Durga Puja is not complete without the various street food available at each of these puja pandals…..
My memories are mostly with my dad – he used to believe that street food is not worthy of its name unless it guarantees you falling sick! so as a kid I remember going with him to each of the stalls in Maddox Square – during those days Maddox Square Pujas we all knew each other including even the street food vendors –  and our question to them was, "So what spoilt food have you made today and what illness will I have post eating this?"
Of course those vendors would state that their food was the freshest and would never make us fall sick…but if that was the answer they gave, my dad would refuse to buy the food. So to get their buyer those poor vendors would guarantee my dad that the food was bad and stale and we would have at least a stomach upset if not jaundice…and only then would we eat that food !
Kriti Mukherjee, foodie and independent consultant, New York, blogs at kriti-howaboutthis.blogspot.com
She writes about the power of food in families in Bengal, how it brings them together and also causes some colorful arguments…
The Ritual of Bengali Food

(with a pinch of salt)
By Kriti Mukherjee

"But why do I have to eat in stages?" I asked. Everybody looked at me with the kind of disbelief that is created at the slip of a profanity, in the presence of elders. No one spoke for the rest of the meal. Later each member of my family took turns in trying to put sense into me.

What my grand mom said amounted to aping the apes, literally. She maintained, "In the pre-historic ages our primate-ancestors, with their innate but intimate feeling of the vegetation around them, always ate in stages. First the bitter berries, then the leaves and fruits and finally the sweet berries. How can you question their wisdom?"

My mother asked me how else is one supposed to taste the different preparations? "I mean", she said, "I might as well then just put everything together while making it, if you don't want the taste of each individual dish. " Someone else said it helped the digestion process.

But the reasoning centering the tradition appealed to me the most. It not only just came down the ages and established itself as an unquestioned rule but has also survived the vagaries of evolution.

No wonder then that a traditional Bengali menu starts with 'Sukto' (bitter) followed by 'Shagvaja' (fried leaves) and culminates in sweets. The space between bitter and sweets has been filled by Bengal's own evolution, and the contribution left by invading Turk, Afghan, Mughal and British rulers.

Like this unwritten rule, there are hundreds more. It could have been the history, tradition, habit, influence or anything really that gives you the feeling of the on flow of time. Food is the primary factor around which every Bengali's life revolves.

Ma likes to discuss the menu of the next course while she is serving the present meal! My father in law wants to know what he should get from the market the next day even while he is putting his bags down from his present trip to the market! Food is in fact one of the most engrossing topics of serious discussions in which, politics, literature, oil prices, current affairs is also dealt with. One can never let that go. Calcutta a land of lawyers, doctors, poets, artists, engineers and scholars is also the haven of the food lover. The demands of the palate have given birth to a myriad of dishes at every nook and corner of every street.

We find an excuse, of the use of food even over and above just consuming it. I have found myself at a loss more than once, when I have had to explain the fish adorned with 'sindoor' and nose ring at Bengali marriages. Because it's pure, is all I could say, more to plunge into an escape route before the next inevitable question popped up.

My father put my agony to rest one day, while casually discussing the history of different recipes. All along the stages of evolution, Bengalis had an abundance of land and water along with matching weather conditions perfectly conducive to growing rice in plentiful. So rice and fish naturally became a source of sustenance. This eventually proved so profitable that growing wheat for many became an agrarian responsibility much below their dignity! Hence even at present and for many years to come fish will remain the symbol of prosperity, sustainability and health. The presence of fish will mean a full life and Bengalis will believe this forever.

There are other confusing habits of course, which one can ponder about at length! My brother in law, a Bengali to the bone, will cancel his appointment for the day if he hears the mention of a banana on his way out. My mother will never fail to make "payesh" on my birthday. My Bengali friend will end all his meal with "mishti doi'. And all of them will mark fish as the most important part of their meal.
Bengali Must-Haves – Fish and Rice
The entire world knows that Bengalis and fish go together. But it is amazing how Bengali fish and spices can go together. Bengalis cook fish with poppy seeds or mustard seeds or just mustard oil and 'kala jeera', with ginger, onions and tomatoes or spices one may never imagine. My favorite is the fish steamed with mustard seeds ('Bhapa Maach'). That with rice gives me the satisfaction that I never feel with any other combination.
It takes just about 15 minutes of swirling in the microwave. The ingredients that go in this dish of relish for zillions of Bengalis is below:
Bhapa Maach
1. ½ pound Hilsa /Prawn/Cat Fish
2. 2 ½ table spoons of Mustard seeds
3. 8 (take in as much as you can take)Green Chillies
4. 2 table spoons of Yogurt
5. 2 table spoons of Mustard Oil
6. Salt to taste
7. 1 tea spoon of Turmeric powder
Procedure:
1. Marinate the fish with ½ teaspoon turmeric and salt for 5-10 minutes
2. Grind mustard seeds and green chillies together to a fine paste
3. Mix thoroughly yogurt, salt, mustard oil and turmeric powder to the paste
4. Gently add the mix to the fish
5. Slit green chillies length wise and sprinkle it on top
6. Microwave the concoction for 10-12 minutes.
7. Serve hot with rice

Kolkata in Brooklyn with Mukti Banerjee

O Calcutta may be very far from America but the good news is you can get your Bengali food fix right here!  Actually you don't have to even go to Kolkatta – you can get some Bengali treats in Brooklyn from Mukti Bannerjee's catering service, along with many other Indian dishes.
Hankering for delicious tadka dal, egg curry and alu paratha? Take a walk to Mukti's Kitchen in Brooklyn, and even learn how to cook the dishes in a meetup with other foodies.  Mukti Banerjee is a home cook who for years cooked for family and friends and finally decided to share her treats with the larger world.
There's a regular meetup (http://www.meetup.com/MuktisKitchen/) where you can connect with like-minded folk, listen to Indian music, learn some authentic recipes and actually taste them over a glass of wine.
In these cooking classes you don't just watch and take notes – you actually get to cook in an interactive atmosphere. "Mukti shared with us her passion for creating delectable gourmet Indian dishes from scratch and was very methodical about explaining each step of the process," says JingLin Huang, one of the attendees. "And if you're too busy to cook, you can also order takeout or cater for parties. The group has both Indian and non-Indian members, united by a common hunger for Indian food.
Q and A with Mukti Banerjee of Mukti's Kitchen
Q: How did you learn cooking – from mother and grandma, or by trial and error in NY?
I  refined my Indian cooking mostly by trial and error in USA. However, my aunts from father's side were really great cook. It runs in the family.
2. Which is your family's favorite dish?
Small-fish curry, lentils and friend cauliflower over white rice would be one example. We all love it.
3. In Mukti's Kitchen what are the dishes you teach your students?
I've taught dozens of North Indian dishes to my students: vegetarian, non-vegetarian, meat, fish, eggs…then you have roti, paratha, puri, biryani, fried rice…and appetizers such as samosa and pakora, and finally different varieties of Indian desserts. I've taught them how to make South Indian Dosa too.
4. What would be the authentic Bengali meal that you would make?
A typical, simple meal would be white rice, saag (greens such as spinach), lentils, a vegetable dish such as cauliflower, eggplant or okra preparation, and fish. A fancy meal on special occasions would add a meat curry, cutlets or rolls made of chicken or tuna fish, chutney and dessert such as the famous Bengali Rasa Golla or Sandesh. On birthdays, it would be Payesh (custard).
5. What dish do you miss the most, living in New York?
Perhaps an authentic Mughlai Paratha from the famous little Anadi Cabin or Rally Singh's rice noodle kulfi would be great to have.
6.  If people want to cater, how much earlier do they have to place their order?
Normally, a couple of days' advanced request is great. If it's a really big order, I need a week perhaps.
Some virtual meals

from Mukti's Kitchen…
Koi Fish with

Cauliflower

and Potato
(Koi is a smaller but [perhaps]tastier Indian Tilapia)
Prep Time: 10 minutes
Cooking time: 30 minutes
Yield: 4 servings

Ingredients:
1 block Koi Fish (get it in Bangladeshi stores: comes in block)
1 whole cauliflower
1 large potato
1/4 cup vegetable oil
2 medium red onions
1-inch fresh ginger
2 cloves of garlic
1-teaspoon cumin powder
1/2-teaspoon coriander powder
¼ teaspoon turmeric powder
¼ teaspoon three-spice mix (cumin, coriander and clove in equal quantity)
¼ teaspoon five-spice mix called "Panch Phoron" (cumin, coriander, black cumin, mustard, fenugreek in equal quantity)
1 Bay leaf
Handful of coriander leaves
½ tablespoon of tomato paste
Salt to taste
Pinch of sugar
Three green chilies (optional)
½ cup water
Directions:
1.    Thaw the fish overnight, drain the water, add one table spoon of salt and rub the fish; then wash it thoroughly to get rid of any fishy smell, add some salt and turmeric powder.
2.    In a big wok heat the oil, let it warm until you see some fumes, fry your fish, add 3-4 at a time and fry them until they are brownish on both sides. Keep them aside.
3.    In that same oil fry the cauliflower (in small florets) and potato (small cubes). Keep them aside.
4.     You have some oil left; in it add three spices, let the aroma come, add onions (chopped), let them fry until brownish
5.    In a blender add the onion, ginger, garlic tomato paste; coriander leaves (also called cilantro) with little water; blend them thoroughly.
6.    In that wok add little oil, add the bay leaf, add ¼ teaspoon of the five-spice mix, let the aroma come, add the blended masala in your oil, add cumin powder, coriander powder and turmeric powder. Let it cook until your masala and oil separate.
7.    Add 1/2 cup water and add your fish, cauliflower and potato, and green chilies
8.    Let it cook for 5-6 minutes.
9.    Add salt and little sugar to taste.
Enjoy with white rice
North

Indian

Samosa
Prep Time: 30 minutes
Cooking time: 20 minutes
Yield: 4 servings
Ingredients:
½ cup all purpose flour
2 cups of vegetable oil
¼ teaspoon of baking powder
Salt to taste
1 tablespoon of three-spice mix (cumin, coriander and clove in equal quantity)
½ teaspoon of cumin powder
½ teaspoon of coriander powder
¼ teaspoon of turmeric powder
Pinch of asafoetida
¼ cup of peas
Directions:
1.    Boil three whole potatoes in a pressure cooker with little salt and baking powder (it helps to boil faster); keep them aside.
2.    In a clean frying pan add 1 tablespoon of vegetable oil, let it warm, add pinch of asafoetida and ¼ teaspoon of three spice mix, let the aroma come.
3.    Add your boiled potato with their skin on and mash them.
4.  Add ½ teaspoon of cumin powder,½ teaspoon of coriander, ¼ teaspoon of turmeric powder add salt to taste, ¼ cup of peas
5.  Fry for 5-6 min and mix them together (this is your stuffing, you can make different stuffing as for example, cauliflower and potato
or with chicken etc) let it cool.
6. In a bowl take the all purpose flour, add 1 teaspoon of roasted cumin, coriander and clove mix, add pinch of baking powder and two  tablespoon of vegetable oil, make a dough by adding warm water slowly.
7. Roll your dough a big circle and cut in half, take half in your hand and make a cone shape, stuff your potato stuffing inside and seal the edges with water and flour (make a mixture which should look like a glue); make sure they are all sealed well before you put them in heated oil.
8. Deep fry them in moderate heat; it should look brown on the outside.
Drain extra oil on putting them on a paper towel.
Enjoy with mint coriander and tamarind chutney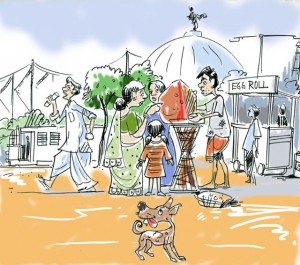 (Illustration: Dipanjan Bose)
A Bengali food related short story: Ahididi's Friends