A look at how the Indian film industry is transforming in the global marketplace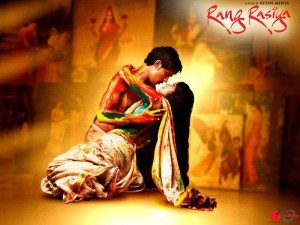 Ever wondered about the 'ma' in the word 'cinema'? Well, for a billion people in India and many more millions across the Diaspora, cinema has been ma and pa, friend and lover and everything else too!
Hindi cinema, sometimes lovingly, sometimes disparagingly, called Bollywood, is much more than the sum of its parts – music, dance and drama. In fact, Indian cinema, in its totality, is like a flood of multicolored butterflies, quite startling in its diversity. Yes, cinema from the Indian sub-continent is no longer just standard 'masala' fare – it comes in many different styles and shapes, with many different labels. It has hopscotched and vaulted to new places through unlikely collaborations, and metamorphosed into many different forms which could not have even been imagined 50 years ago.
Over the past decade, innovative directors like Mani Ratnam, Ram Gopal Varma, Sanjay Leela Bhansali, Vishal Bharadwaj and Karan Johar have put their own stamp on Bollywood, producing slick comedies, horror films, murder mysteries, sci-fi, and ensemble movies.
Meheli Sen, who teaches an Introduction to Bollywood Cinema class at Emory University in Atlanta, GA, says, "There is a trend to move away but the basic template of some songs, some action, and some romance is going to be in place. There is a basic grammar of the masala film but there seems to be more focus on different genres since the last ten years."
Indeed, one would be hard-pressed to categorize the diverse films which are now coming out not only from India but also the Indian Diaspora. They are a rich mix of traditional masala films, along with art-house films, dramas, comedies, sci-fi, films with galaxies of stars, films with no stars, offbeat stories, murder mysteries; films made by Bollywood royalty and films made by unknowns; films made by major Hollywood studios and by major Indian corporate houses.
Or to put it bluntly – It's not your dad's Bollywood anymore!
Yes, this is the Bollywood where famous studios from Hollywood are now making Bollywood films! Last year Sony produced its first Bollywood film, 'Saawariya' starring Ranbir Kapoor and directed by Sanjay Leela Bhansali; Disney is producing 'Roadside Romeo' with the Yash Chopra banner, and Warner Brothers is co-producing 'From Chandni Chowk to China' with Ramesh Sippy, starring Akshay Kumar. These are just a few of the big deals that are happening with Hollywood studios. At the same time, UTV has signed collaborations with Will Smith and Fox, while Reliance has signed deals with Steven Spielberg's DreamWorks as well as with the banners of Brad Pitt and Tom Hanks, among others. Major television networks from the US are also coming into India so the entertainment space is really heating up.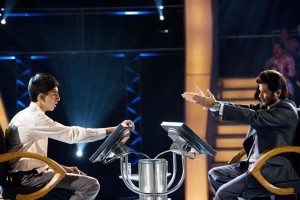 Another interesting aspect is how the Indian Diaspora is changing the scene through creative marketing, collaborations and diverse online outlets. At the recent South Asians in Media, Marketing and Entertainment (SAMMA) Conference at the Time Warner Center in New York, hundreds of savvy young South Asians had gathered. No longer limited to professions in medicine or engineering, these second generation Americans are employed by major mainstream corporations like Disney Studios, ABC TV Network, MTV Networks, Google, Time Inc., Turner Broadcasting, Time Warner and NBC Universal, to name a few.
Others have turned entrepreneurs with companies specifically geared to marketing Indian cinema. At the conference, a very popular panel was titled 'It's Not Your Dad's Bollywood!' (Yes, we swiped the title for this article from there!), which looked at innovative companies utilizing and contributing South Asian content globally. These include Saavn, the largest distributor of Bollywood entertainment worldwide, a joint venture between (212) MEDIA and Hungama Mobile, which is a big distributor of mobile content in South Asia. The co-founder Vin Bhat has secured distribution deals for Bollywood content with global providers like Time Warner and Amazon.
Geetanjali Dhillon, is the co-founder of Jaman, a global community and online space for entertainment which specializes in using technology to find a wider audience for quality cinema. Mira Nair's AIDS Jaago, a mini film about the AIDS epidemic, for instance, reached viewers in over 127 countries through Jaman. Another innovative company Desi Hits, co-founded by Anjula Acharia Bath, is a digital and music entertainment company which celebrates and defines Desi pop culture. The company has senior executives from SonyBMG, William Morris Agency and Ogilvy on its board and was recently named as one of the top 100 digital media companies to watch for by OnMedia 2008.
Surely all this exposure in the virtual world is going to get Indian cinema many more fans, and it will be interesting to see how filmmakers use the internet for promotion and distribution. Indeed, digital filmmaking is the other side of the coin, and this cost-effective method has already influenced Indian cinema, especially in the independent filmmaking world, be it features or documentaries.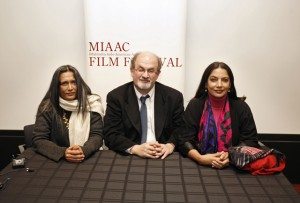 The many different faces of Indian cinema were seen at the recent Mahindra Indo-American Arts Council (MIAAC) Film Festival in New York, which is in its eighth year. The very fact that the $6.7 billion Mahindra Group, one of the large industrial houses in India, has seen fit to sponsor a film festival in New York shows the cross-country collaborations that are happening. The five day festival screened 32 Indian and Diaspora films, all New York or US Premieres, and was attended by celebrities Deepa Mehta, Mira Nair, Shabana Azmi, Konkona Sen, Boman Irani, Madhur Jaffrey and Ketan Mehta, as well as noted writers Salman Rushdie, Suketu Mehta and Shashi Tharoor.
While the big Bollywood blockbusters with huge star casts are still going strong, the festival showcased the many independent films which are gaining global audiences. Ask Aroon Shivdasani, director of the Indo-American Arts Council, if her diverse programming says anything about how Indian cinema is changing, and going beyond Bollywood, and she says, "Absolutely.  With the increasing visibility of all things Indian, there is a growing interest in India and Indian culture. Indian Independent and Diaspora cinema tells stories of the real India, and of real people of Indian origin living outside India."
"This genre does not feel the need to 'entertain' – it addresses social concerns, immigrant lives and stories of the reality of living in India or the reality of people of Indian heritage living outside India, all told through the lens of feature films made by Indian independent and Diaspora filmmakers."
With the ever-burgeoning South Asian population, not to mention the West Indian, Russian, Middle Eastern populations living in the US – there is a growth market for Indian cinema. Now there are also increasing numbers of mainstream Americans intrigued by the mix of Bollywood and parallel cinema.
Says Shivdasani, "I'm surprised by the number of Americans who have personally told me they have traveled to India, or are just interested in India and Indian cinema.  Our audiences have been very mixed this year and I do believe it will stay that way and attract even more mainstream Americans."
The fact that Fox Searchlight chose to premiere Danny Boyle's 'Slumdog Millionaire', which already has Oscar buzz around it, at the MIAAC Festival is validation, she says. Literary icon Salman Rushdie and director Deepa Mehta also chose to announce their new collaboration at the festival – a film based on the Rushdie epic, 'Midnight's Children'.
Right from Deepa Mehta's 'Heaven on Earth' to Richie Mehta's 'Amal', from Adoor Gopalakrishnan's 'Four Women' to Sooni Taraporevalas's 'Little Zizou', along with scores of shorts and documentaries like Shyam Benegal's 'Bose: The Forgotten Hero' and Teri McLuhan's 'The Frontier Gandhi', the festival showcased the many different directions independent filmmakers are headed in.
"We have the emerging and the established, but we also have regional cinema, we have got various representations of languages," says film curator L.Somi Roy, who was responsible for the film programming at the festival. "And we also give a nod to Indian film history and culture because we want to show the richness and variety of Indian cinema."
Indeed, one of the gems from the past was a screening of 'Neecha Nagar' (Lowly City) by Chetan Anand – the first film which ever went to Cannes and ended up bagging the Grand Prix there – in 1946 before Independence! The music for the movie was scored by sitar maestro Ravi Shankar.
"Indian cinema always kind of reinvents itself every now and then, responding to the needs and the interests of the filmmakers," says Roy when asked if the very definition of what constitutes Indian cinema is changing. "Indian cinema has always been more than just Bollywood, and it has always rested on the filmmaker, the independent filmmakers, the thinking filmmaker, the artistic filmmaker who is making films on his or her own terms. We have people like Shyam Benegal, for instance, who are entirely respectful of Bollywood traditions and genres and its idiomatic language, cinematic language. But they have always maintained their independent status as filmmakers."
Then there are also noted filmmakers who are making films in India but are making them for a global audience, such as Ketan Mehta, whose films such as 'Mirch Masala' (Spices), 'Sardar' and 'The Rising' have always won national and international awards. Mira Nair, Shekhar Kapur, Deepa Mehta and Gurinder Chadha, while living in the west, also work in both countries and are established in making films that have a global reach.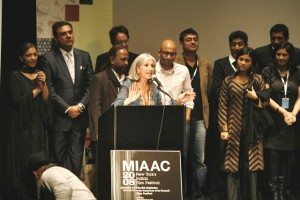 The change is also coming through the young emerging filmmakers who seem to have a foot in both countries such as Apoorva Lakhia, who studied film at New York University and makes films in both countries. His latest 'Shootout in Lokhandwala' is a Bollywood action film – 'an all-singing, all-dancing gangster film'. Then there's Richie Mehta who was born and lived in Canada and went to New Delhi to make 'Amal', his wonderful first film which has won awards and accolades at many film festivals. The film about a simple auto-rickshaw driver and his world view packs a powerful punch about the important things in life and really makes you think.
Manu Rewal, who studied filmmaking at the Sorbonne in Paris and at NYU and has made many documentaries, recently made his first feature 'Chai Pani' starring Konkona Sen; Bollywood and its many stories continue to fascinate young filmmakers and there's Vinay Choudhary who lives in New York and is a faculty member of the New School University's media study program, has made 'Personality' – a short film about the unsung heroes – Bollywood background dancers, the chorus boys of Bombay films.
Says Roy: "So there is a lot more global character to the films, as these filmmakers have their experiences in the West and in India, and are truly bi-cultural in their functioning and sensibilities making films. There is a lot more fluid back and forth and each sensibility, whether it is springing from the Indian milieu or from the Western milieu, has begun to inform a lot of these films."
In the India of big economic booms (notwithstanding the last few months), it's been a really good time for independent filmmakers because there are many more companies which are investing in independent film productions. Young filmmakers now have solid budgets and are able to get established actors who are willing to work with them. Many of these filmmakers have studied and lived abroad and are aware of international culture and have seen international cinema, and these influences find their way into their work. Indian corporations are also getting involved in movies which are not restricted to Indian themes or Indian audiences.
"There's a great deal of excitement that is building up," says Roy. " I think what we do sense is that in the next few years we are going to be cresting a new wave in Indian cinema with this kind of investment by local companies as well as the global reach of the filmmaking."
With the advent of multiplex cinemas in India, there is now not one monolithic audience – rather a wide variety of audiences. Ketan Mehta, who's just made the stunning film 'Rang Rasiya' (The Colors of Passion) about the life of art icon Raja Ravi Varma, says, "The Indian audiences have changed so dramatically over the last few years – a whole new generation of audiences has come up which has grown up on satellite television and images from all across the world."
He adds, "I'm very optimistic about Indian cinema over the next few years. I think a wide variety of cinema will be made – a whole new generation of filmmakers is emerging which is not constrained by just the Indian market – they are looking at communicating with the whole world."
In the end, says Somi Roy, the Indian film industry is much more than Bollywood and is defined by independent artists who draw their inspiration from the vast array of cinematic styles they are heir to, be it international or Indian cinema. He adds, "But there is this big 800 pound gorilla in the room called Bollywood that people know about in the West and the art house audience knows about it, they are intrigued by it, fascinated by it."
Yes, Bollywood in all its avatars is eternal and continues to take audiences on a seductive, addictive emotional roller coaster ride. Long live the 800 pound gorilla!
HOORAY FOR BOLLYWOOD!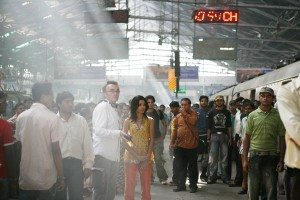 Wild, frenetic Bollywood, suffused with color, emotion and energy, continues to inspire Western cinema, as can be seen in 'Slumdog Millionaire' which is filmed right in the heart of the churning, crowded city of Mumbai. This Danny Boyle super-film keeps you on the edge of your seat as it follows Jamal, a young slum boy, on his quest for a million in a TV game show. You have melodrama, suspense, A.R. Rahman's music, a cast of thousands and all the energized narrative of Bollywood in this fun movie which is reputed to be headed for the Oscars.
At the premiere, Boyle called it a British film but Lovleen Tandan, his co-director, insisted it was an Indian film! So how much of Bollywood inspiration is there? As the New York Daily News noted, "Boyle borrows heavily from Bollywood, and every dazzling frame seems ready to overflow – with people, emotions and a riot of color. The romance is shamelessly soap-operatic, and the mood swings wildly from despair to joy."
The New York Post pointed out, "American audiences have long been notoriously cool to the larger-than-life storytelling style of Bollywood that Boyle pays tribute to, but 'Slumdog Millionaire' could be an even bigger game changer than 'Moulin Rouge.'"
Add to that, cinema guru Roger Ebert's comment, "The film's universal appeal will present the real India to millions of moviegoers for the first time" and you realize that Bollywood is there for the long haul.
THANKS HEAVEN FOR THE CORPORATES!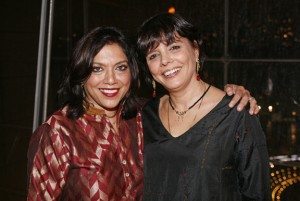 One of the fun movies to watch out for in 2009 is 'Little Zizou', the directorial debut by Sooni Taraporevala, the screenwriter who wrote the scripts for Mira Nair's 'Salaam Bombay', 'The Namesake' and several other movies. 'Little Zizou' is a funny, feel good movie with a message of tolerance at its heart. The plot on which she hangs the story is the tussle between a narrow mindset and a broad, tolerant worldview, but all told with a wacky sense of humor. The film is going to be shown at over five film festivals from Rome to Goa to Singapore before its release.
As an independent film-maker, Taraporevala credits two phenomenons for the existence of 'Little Zizou': "The availability of multiplexes and corporate finance has made these kinds of movies possible, as compared to the past. So many corporates are in the movie industry now and this has allowed smaller movies to thrive because most corporates want to do a balance of films – some small independent films, some large Hindi films, so there's space for all kinds of films." Indeed, there are many big corporations like Reliance, UTV and Network 18 which are involved in the film game. 'Little Zizou', for instance, was co-produced by Studio 18 , which is a part of Network 18, and Taraporevala is ecstatic about the full creative freedom she was given to pursue her dream script.
So is Bollywood finding fans abroad? "It absolutely is – everyone knows about it now," says Taraporevala. "My agent, who is American, was amazed when he took his daughter to the public library and she wanted to pick up the latest Aishwarya Rai movie. When he asked her how she knew about it, she said, 'Dad! Everyone knows Ash!'"
© Lavina Melwani
Photos: 1. Rang Rasiya. 2. Dev Patel and Anil Kapoor in 'Slumdog Millionaire'
3. Deepa Mehta, Salman Rushdie and Shabana Azmi. 4. Aroon Shivdasani at the IAAC Festival with filmmakers. 5. Freida Pinto and Dev Patel in 'Slumdog Millionaire. 6. Mira Nair and Sooni Taraporevala at the screening of 'Little Zizou.'