Coming Up: A Movie-Watching Marathon at NYIFF  
Sometimes there's a film so emotionally wrenching and yet so life-affirming that you just have to see it. Such a film is Shonali Bose's 'Margarita with a straw' which opens the New York Indian Film Festival.  In this unusual love story, a middle-class Indian teenager with cerebral palsy longs to experience that most basic of human desires –  a love relationship. Sex and the disabled are hardly ever talked of in the same breath, and this brave film takes on this taboo topic. Kalki Koechlin gives a complex performance as Laila, a girl who wants to live life on her own terms.
Filmmaker Shonali Bose describes how the film materialized best in her own words: "This my second film – is inspired by my cousin sister Malini who has acute cerebral palsy. That's a condition where the part of your brain that controls your motor skills is damaged at birth. But your emotional and intellectual abilities are intact.  When I was 40 and Malini was 39 – we were having a drink in a London pub. I was passing through on my way from America to India and she was getting a second Masters degree there. I said – what are we going to do for your 40th? It's absolutely the best birthday. Her speech is usually garbled and difficult to understand. But sometimes when she is angry or excited – it comes out crystal clear. This was one of those times. She banged her fist on the table and spoke loud and clear for all the pub to hear: I just want to have sex by the time I'm 40! I grinned sheepishly around and assured her it was not what it was made out to be etc etc.  But later when I was thinking about what she said, what she so passionately wanted – I realized that I had never thought about her sexuality much. Or maybe I just avoided it as I didn't know what to do about it. This started me on my journey of Margarita."
Margarita with a Straw
Celebrating Life
'Margarita with a Straw' has obviously struck a chord with audiences. It won the Audience Award and the Youth Jury Award at the Vesoul Film Festival in France, and was also the opening film at the Vancouver Women's Film Festival.  Shonali Bose received the Sundance- Mahindra Global Filmmaker Award for the screenplay of 'Margarita with a Straw', and the film went on to win the  NETPAC award for the Best Asian Film at TIFF 2014.
"Audience awards are of course just the best affirmation ever," notes Bose. " What was most touching and thrilling is how the whole town of Vesoul hugged co-director Nilesh Maniyar wherever he went. The most amazing and sweet encounter was when he went to have a shave. The barber stared at him for a few minutes and then shouted out in glee – you're the "Margarita Man!" He then enthusiastically and passionately held forth on the film thus over trimming the beard (!) and then refused to take any money. He said you've given such a gift to the world with your film this is the least I can do." She adds," Ohhhhhh. That's why we make films!"
There will be a chance to see this movie and meet Shonali Bose, the director who earlier gave us the powerful 'Amu'. She will be just one of many directors at The New York Indian Film Festival in May, including Sham Benegal, Aparna Sen, Hansal Mehta and Vishal Bhardwaj. You will get to see an eclectic bunch of films which show you the old and new India.
The New York Indian Film Festival is the longest running festival of South Asian films and is presented by the Indo-American Arts Council (IAAC) which is headed by Aroon Shivdasani.  The film programmer is Aseem Chhabra, and he sees hundreds of films in order to curate the best for the festival. Indeed, the most exciting part about NYIFF  every year is the surprise element – the number of independent films you may not encounter in other places. The centerpiece film is Aparna Sen's 'Saari Raat', a play in three acts by the noted Bengali playwright Badal Sircar and stars Anjan Dutt, Rittwik Chakraborthy and Konkona Sen Sharma. In last year's festival Aparna Sen had showed the offbeat film 'Ghost' and one can always expect the unexpected from her, this time a play in the guise of cinema
'Saari Raat' by Aparna Sen
A Feast of 30 Features and Shorts
If you're a fan of Vishal Bharadwaj and his powerful Shakespeare trilogy – and who isn't? – you'll get a chance to see all three – 'Maqbool', 'Omkara' and 'Haider' – and also meet the director himself, as he discusses his films with a Shakespearean expert.  This is a rare chance to view all three masterpieces with the director including the recent 'Haider' which won five national awards and has strong performances.
'Maqbool' from Vishal Bhardwaj's Shakespearean Trilogy
Nawazuddin Siddiqui's Haraamkhor
Fans of Nawazuddin Siddiqui know to expect the unexpected from that quicksilver actor. At the festival they'll get to see him in quite a different role in 'Haraamkhor' which is produced by Anurag Kashyap and introduces a new face, Shweta Tripathi in an unusual love story.
All in all, there's a virtual feast of features and shorts that include a documentary 'Benegal's New Cinema' with the noted director Shyam Benegal. You can also catch the documentary 'Daughters of Mother India' which won the National Award for Best Film on Social Issues, and 'Elizabeth Ekadeshi' which won the National Award for Best Children's Film.  For  local Indian-American flavor, there is 'Miss India America' and 'Meet the Patels'. And who wouldn't want to check out a film called 'Yeh Hai Bakrapur'?
Also highly anticipated is Hansal Mehta's 'Citylights'. Here's a peek at this powerful film from the director who gave us 'Shahid'.
Citylights from Hansal Mehta
There are 30 independent films to watch over five days from May 4 to May 9, so arm yourself with a huge tub of popcorn, some friends and plan to visit other lives and check out  their stories.
Attending a film festival is such hard work –  an endless movie marathon, parties, panels, and constantly rubbing shoulders with celebrities – we'll take it any time!
More details at The New York Indian Film Festival 2015
Related Articles: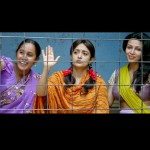 2014-NYIFF Eat, Drink, Live Cinema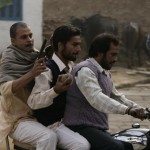 Anurag Kashyap, the Godfather of Wasseypur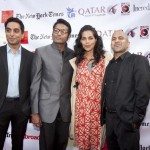 NYIFF – 2013 – Celebrating Indian Cinema