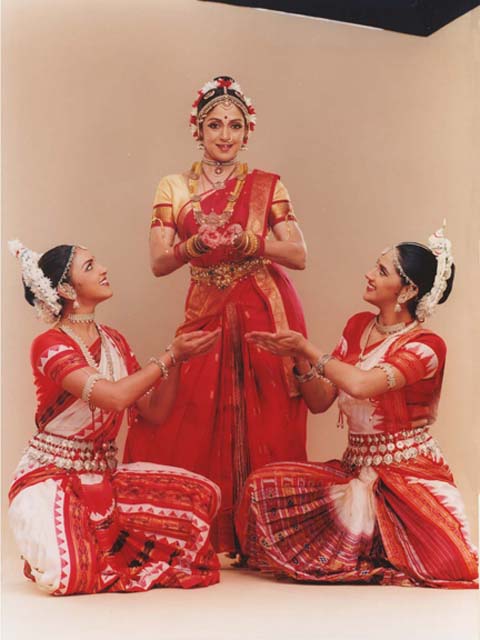 Parampara – 

Celebrating a Dance Tradition

with Hema Malini, Esha & Ahana
What can be better than seeing the wonderful Hema Malini performing Indian classical dance live on stage? Watching Hema performing Indian classical dance live on stage with her two daughters Esha and Ahana Deol! Three for the price of one you could say!
For New Yorkers this will be a unique experience as the famous mother and daughters have never performed together in the US before. Hema Malini is known to generations as the quintessential superstar and the Bollywood Dream Girl  – and also one of the most well-known dancers in Indian classical dance. It will be an intriguing and rich experience to see the two generations performing together.
A Trio of Talents
This concert has been dreamed up by SAMAA (South Asian Music and Arts Association), a new organization which wants to keep dance and music alive for future generations and familiarize the west with diverse artists from the east.
Parampara – Bharatanatyam and Odissi by Hema Malini and her daughters Esha and Ahana is a rare event which shouldn't be missed. It's being held on October 1st at the  Skirball Center for the Performing Arts.  There's also a chance to meet the star performers at an after performance reception at Rosenthal Hall, catered by Tulsi. All details are here
"I think this concert is important to me as  I am able to get top Bollywood stars, Hemaji and her daughters to promote South Asian Arts via this pure classical dance show," says Simmi Bhatia, executive director of SAMAA which is bringing the show here. "I am quite excited since our aim is to promote classical music and arts in a way which could get nearly as much exposure as the regular Bollywood shows,  as well as get noticed by non South Asians as well."
Meanwhile, while Hema Malini is a household name for all Indians, less is known about Ahana and Esha, the lively daughters of Hema and Bollywood legend Dharmendra. Lassi with Lavina  brings you an exclusive chat with Ahana Deol.
Q and A with Ahana Deol
Has dance always been an important part of your life?
Ahana Deol: It's definitely been an important part of my life ever since I started performing. It's a very different experience, a more spiritually beautiful one.
Why is this concert different from others you may have performed in India?
Ahana Deol: This concert is different because I love New York. I have taken many trips there and had some great times, but this trip would be this first one I take to perform my classical Odissi dance there. It would be a brilliant experience and a pleasure to perform there along with my mum and my sister.
What are you going to be performing for New Yorkers?
Ahana Deol: My sister and I perform a classical dance form called Odissi. This is different from what my mother does, which is Bharatanatyam .  We all do few solo items and then we do a jughal bandhi with the three of us together. All these items are based on different stories of our Gods and our love and devotion towards them.
Why do you think organizations like SAMAA are important?
Ahana Deol: They are making space for people to understand, experience not just different types of art forms, but also the culture and diversity of different countries, which people really appreciate.  Just like we appreciate and are eager to experience and enjoy different cultures from around the world. I believe organizations like SAMAA are doing a beautiful job in connecting different cultures and helping people share their form of art.
You worked with Sanjay Leela Bhansali as an assistant director on 'Guzarish'. What lies ahead for you?
Ahana Deol: I do plan on directing a movie. I have always been passionate about writing and directing. As of now I have been writing a script which is very dear to me.  It's in the middle stage right now so I'm hoping to start by next year.
Tell me about your clothing line?
Ahana Deol: My clothing line called Ahana.   I recently started another line which is totally eco-friendly and consists of bags, stationary, and yoga accessories. Sticking to eco-friendly things is very important to me.  I am hoping I could do much more with my line in order to spread the message – GO GREEN !
What does your father Dharmendra think of the mother and daughters dance team?
Ahana Deol: My dad totally loves it that three of us dance together. He is not only supportive but he also appreciates the dance form.
Does Dharmendra attend your shows?
Ahana Deol: He has seen us perform a couple of times . It has always been a pleasure to have him as audience, even though the first time he saw me dance I was really nervous , but as soon as the show was over he came up to me and said 'Great show!' with a big smile. I was never nervous to dance in front of him after that. His smile is really comforting.
Hema Malini, you and Esha work closely but mothers and daughters don't always see eye to eye. Do you think the joint performances and camaraderie help the mother-daughters relationship?
Ahana Deol: My mum, Esha, and I are extremely close anyway, and when we get together it's always so much fun because we are like friends or sisters. For sure there are times when we don't see eye to eye, but that's normal. We enjoy fighting also, because the fight is never serious. Definitely traveling, and performing together has made us so much closer and more understanding of each other's own personality.