655 people saw it on FB  Lassi with Lavina
Padma Lakshmi: Red Carpet Dynamics
East is increasingly meeting West on the red carpet, and you see a touch of India in America. It's great to see couture by an Indian designer showcased on New York red carpets – especially by the sizzling Padma Lakshmi. The host of Bravo's Top Chef  and the must-click subject of every photographer on the planet, Padma was seen at two NY events in Payal Singhal's elegant yet fun outfits which debuted recently at the Lakme Fashion Week in India.
At the Brooklyn Artists Ball in Brooklyn (where else?) Padma wore a stunner from Payal Singhal's latest collection Lady Sahara – a three piece outfit consisting of a black linen choli with stone net ogee embroidered dupatta jacket with black linen ghagra Sahara pants. Choli, dupatta and ghagras – once unknown words in America!
Then at the Derek Lam & Jamie Wolf Black and White Jewelry Launch, Padma was seen in Charbagh Farheen Tunic with a pair of black overalls. Black and white never looked so good, in this marriage of east and west styling and sensibilities.
Hope this sets a trend and we see more New York celebrities wearing Indian designers on the red carpet!
Padma Lakshmi – On the Red Carpet  in Payal Singhal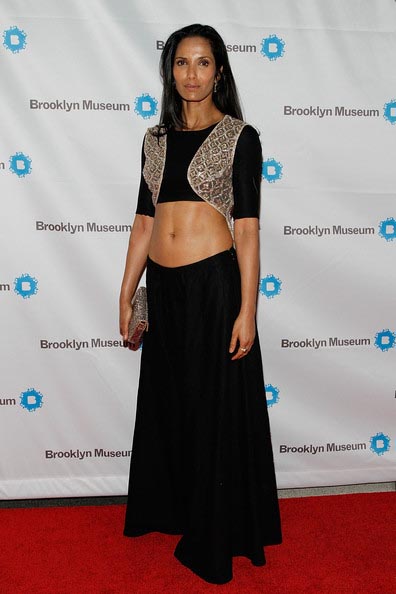 Padma Lakshmi in Payal Singhal
Whet your appetite for Spring :
Payal Singhal Collection at the Lakme Fashion Week
Related Fashion Articles:
Manish Arora, Indian Fashion Sorcerer
India on My Mind
Sonam Kapoor at the Paris Shows
Fashion Conscience
Manish Arora Designs for Hello Kitty