3664 people saw it on Lassi with Lavina Facebook page

The Do-Gooders' Billion Dollar Club
How would you like to hobnob with the ever charismatic, ever friendly President Bill Clinton at a gathering of power people? Meet First Daughter Chelsea Clinton on board the battleship Intrepid? Perhaps rub shoulders with Indian-American business superstars Indra Nooyi of PepsiCo and Ajay Banga of Mastercard? Chat with superstars like Mira Nair, Shabana Azmi or Jhumpa Lahiri? Pose for a picture with Miss America?
If you're on the gala fundraiser circuit in the US, you would have met them all  – and helped raise millions of dollars too. While most elite private clubs exist to further networking, the remarkable thing about these Indian-American gatherings is that they don't monitor the graphs of big business or mergers but the potential of the human heart – the possibility of creating success for millions  of under-privileged people.
Silicon Valley and Wall Street Moguls
You could call these initiatives the Do-Gooders' Billion Dollar Club which through high profile events get high net worth individuals  and corporations to write substantive checks for  initiating change in the lives of the neediest in India.  Several nonprofit organizations like AIF, Pratham USA and Aksha Patra exist in big cities like New York, Los Angeles and Chicago and help channel the wealth from Silicon Valley and Wall Street moguls to the villages and slums of India. While in India people generally tend to give individually to places of worship or personal causes, but  once they come to the US they often adapt to this American way of raising money for charitable causes.
After all, America has a reputation for being the most generous nation in the world: according to Giving USA,  Americans gave a whopping $298.3 billion in 2011 – the largest source of charitable giving came from individuals at $217.79 billion, or 73% of total giving; followed by foundations ($41.67 billion/14%), bequests ($24.41 billion/8%), and corporations ($14.55 billion/5%).
In fact, according to a study conducted by the Center on Philanthropy at Indiana University, it is estimated that charitable contributions will total between $21.2 to $55.4 trillion between 1998-2052.  The figures of charitable giving in the US is equivalent to the GDP of some nations! We all recall Warren Buffett's gift of $43.5 billion in Berkshire Hathaway stock to charities, including $31 billion to Bill and Melinda Gates Foundation, the largest single charitable gift in history.
The Giving Pledge
The Giving Pledge introduced by Warren Buffet and Bill and Melinda Gates is a commitment by the world's wealthiest individuals and families to dedicate the majority of their wealth to philanthropy, and three Indian-American moguls Vinod Khosla, Romesh Wadhwani and Manoj Bhargava have signed on to this.
While most Indian-Americans are nowhere near those levels when it comes to giving, they have collectively given millions of dollars to causes in India and the US, including establishing chairs at American universities.  Once Indian-Americans have prospered, many adopt these American giving traditions. The early years of immigration may have been a financial struggle for Indians but today the Indian-American community is over 3 million strong and according to a Pew Research Group study,  Indian Americans lead all groups by a significant margin in their levels of income and education:  Seven-in-ten Indian-American adults ages 25 and older have a college degree, and  38 percent have an advanced degree as compared to 10 percent of the local population. Their average annual income is $88,000 as compared to the general median income of $49,000
The American Way of Giving Back
For over 2 decades,  major Indian-American non-profit organizations  like Pratham USA, AIF, Aksha Patra, and Share & Care have been tapping the NRI community to finance  projects across India from schools to hospitals. The fundraising gala has been a staple of American philanthropy and these galas serve the dual purpose of raising funds for important causes, and also allowing opportunities for  the upwardly mobile to network and form connections.  These glamorous events are at upscale locales with celebrity guests, dinners by noted chefs, and entertainment by big names, the cost often underwritten by supporters.  They draw inspiration from the American foundations which use the gala model with their high net worth supporters to raise huge amounts. Recently the Robin Hood Foundation raised $60 million in one evening, and the Lincoln Center for the Performing Arts holds 8 to 9 galas a year to raise funds in New York City.
"Raising charitable funds through Galas is a particularly American way of getting people to donate money to various causes," says Dinyar Devitre, Chairman of Pratham USA. "Even in the UK, which is a generous country, the Gala concept is still emerging. The formula is straightforward: use an attractive venue, invite a well known keynote speaker, and make the evening fun. The Indian Diaspora in the USA is becoming richer and increasingly philanthropic. They want to give money to good causes and they want to have fun whilst doing so. This is particularly true of 2nd generation Indian Americans."
In the Indian-American community, the grand-daddy of them all is the American India Foundation (AIF) which was founded with the support of President Clinton amidst a lot of buzz in 2001 during the Gujarat earthquake.. According to Pradeep Kashyap, the vice chair of AIF, "As members of the Indian  Diaspora settle into their journey of becoming Americans, they do adopt American ways in most aspects of their lives – including practicing socially aware philanthropy.  By seeking similarly valued members of the Diaspora we have built volunteer chapters across the major urban area in the US. As chapters achieve higher levels of engagement/success we ensure that they are appropriately represented in the governance infrastructure of AIF – that allows broader 'ownership of brand AIF'."
 President Clinton, Mukesh Ambani & More
The fundraisers organized by AIF have raised the bar with noted guests like President Clinton, Mukesh Ambani, Anand Mahindra,  Adi and Parmeshwar Godrej, and Jeffrey Emelt, CEO of GE.  The top names in American finance and business have been on the gala committees which have often been chaired by Victor Menezes. Madhur Jaffrey is an ambassador, and at panel discussions hosted by AIF, heavy hitters like Narayan Murthy, Indra Nooyi and Fareed Zakaria took to the stage. At this year's gala,  Dinesh Paliwal, president and CEO of Harman International and his wife Ila were the co-chairs, and the honorees were Dan Hesse, CEO  of Sprint and T K Kurien, CEO of Wipro Limited. With guests from the worlds of business, arts and entrepreneurship, it was truly a gathering of power people.
AIF's president Lata Krishnan, a hugely successful entrepreneur in Silicon Valley, has brought the passion and commitment to growing the organization. Some of the biggest fundraisers have been held in Silicon Valley – events with over 600 people, dancing and fun – and raising big bucks. At the most recent one, Frank D'souza of Cognizant Technology was honored and over a million was raised in that evening. The locales are always stunning and in fact the one in Chicago was held inside the magnificent hall of  Union Station.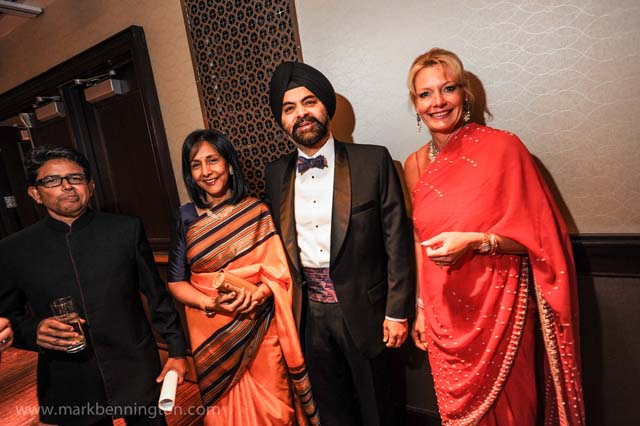 AIF CEO Ravi Kumar, Ritu Banga, Ajay Banga, WaterHealth International VP Corporate Affairs Jacqueline Lundquist
Millions of Dollars Raised
Over the  years AIF has raised $87 million and continues to raise $7-10 million annually.  It has built national chapters and held annual galas in  multiple locations across the US, from San Francisco to Chicago to Washington DC and Boston. The board members of AIF visit projects in India early in the year and from April onwards hold various galas and panels to help raise funds. According to Ravi Kumar, CEO of AIF, "AIF has a record of raising millions of dollars over the years; through projects in education, livelihoods and public health,  it has transformed the lives of 1.9 million of India's under-served in 23 states. The six signature programs present a portfolio for supporters who are focused on ensuring that their contributions are spent well, efficiently and leveraged to the maximum."
Pratham is another powerhouse organization which has a very active US base, and the financials for 2012 show that Pratham USA raised over $10 million.  Committed to bringing universal literacy to India, it has a US board comprising of leaders in business in the US, and many of them contribute $100,000 each to the programs.
 Pratham on board the Intrepid
Dinyar Devitre, the chairman of Pratham USA,  is a Special Advisor to General Atlantic Partners, a Private Equity Group In New York and is a member of the Board of Directors of Altria Group, Inc. Pratham USA has on its board successful Indian Americans including Arvind Sanger, Jaideep Khanna, Vijay Goradia, Avinash Ahuja, Suren Gupta, Sudesh Arora, Paul Pandian, Deepak Raj and Swatantra Jain – and Fareed Zakaria recently joined the board.  Pratham has 14 chapters across the US and fundraising galas are held in most of these locations with high profile business and arts leaders.
Last year it held a dazzling gala on the warship Intrepid in New York harbor with Chelsea Clinton as chief guest,  raising over $2 million. More grand galas are on the way this year, including one in Washington DC where Ajay Banga of MasterCard will be honored, and another in New York in the prestigious Museum of Modern Art where Fareed Zakaria will be the keynote speaker.
 Akshaya Patra – Hot, Nutritious Meals to 1.3 million  Children
U.S. Congressman Joseph Kennedy III and Miss America Nina Davuluri were the keynote speakers at the Boston gala fundraiser for Akshaya Patra Foundation USA. The US-based organization raises about $4  million annually, 10 percent of the $40 million raised by the India-based organization, which provides hot, nutritious school meals to more than 1.3 million under-served children in 9,500 government  schools in India from 19 centralized kitchens.
It is headed by the noted philanthropist Desh Deshpande. It has 9 chapters across the US, and Emily Rosenbaum,  CEO, Akshaya Patra Foundation USA, says: "What is different about the fundraising approach here in the US is the focus on leveraging the skills, abilities and resources of volunteers and supporters through hub city chapters which generally hold one large scale fundraising Gala style event per year and many augment this with smaller events such as golf tournaments, concerts or grassroots walk/ run events."
It's all about who you know and different groups have leveraged different networks and power people.  Share and Care is a much respected organization which has raised over $65 million for niche programs, largely with support from the community.   "Our partners are corporations, private funds, and high net-worth individuals," says Arun Bhansali, President of  Share and Care: "We have well-oiled marketing and communication channels that keep donors interest alive and pro-active. Ours is a community based foundation where we receive funds from over 10,000 donors. Over 32 years, we have been very transparent and developed trust within the community. The foundation has raised millions for our signature programs – women empowerment, health and education  – through galas, concerts and art shows."
Helping Myriad Causes
Some smaller organizations have also had stellar results, fundraising with American style theme-based galas and major names. Children's Hope India,  formed by NY women professionals, has worked in slums and villages for 21 years, creating health and education programs for needy children. It has held fashion galas with the top names from the Indian fashion world including Ritu Kumar, Suneet Varma, Rohit Bal and Manish Arora.  It's fun Evening in Mumbai and Viva Calcutta! events have turned fund-raising into fun-raising. Mira Nair, Jhumpa Lahiri, Princess Padmaja of Udaipur, Suketu Mehta and Karan Johar have all been supporters. Last year  CHI honored Indra Nooyi of PepsiCo with its Special Impact award and big names like Ajay Banga, Dinesh Paliwal and Ajit Jain attended. The evening raised $500,000 with over $90,000 being raised in just ten minutes with a live auction of CHI projects by Christie's  auctioneer Sandhya Jain-Patel.
The second generation of Indian-Americans is even more into philanthropy, and the 15-year-old Desai Family Foundation recently turned into a public foundation and held its first gala. The organization, which  has built three community centers in Gujarat, is run by the father and daughter team of  Samir and Megha Desai. At the glittering gala at the art deco Capitale, guests included Aksha Patra founder Desh Deshpande, who is also founder of the Deshpande Center for Technological innovation at MIT, as well as entertainers like Falu and Janina Gavankar.
Megha Desai says, "Servicing the community is a part of our DNA" but she also grew up the American way, selling girl scout cookies and getting pledges for charity walks: " Let's be honest, no one throws a better party than Indians – just look at our weddings! Indians have been throwing events like these for years. However, the purpose for which these galas are used is really an American phenomenon and now successfully adopted by many Indian non-profits."
There is such an interest in giving that new foundations are proliferating in the US. Meera Gandhi's Giving Back foundation held its first gala at the Pierre, honoring Barbara Tober, Museum of Arts and Design's Chairman Emerita along with Nimesh Kampani, Chairman of the JM Financial Group, with Phylicia Rashad and Ajay Hutheesing among the guests.
As Indians become a part of the social fabric of America, they are getting involved with mainstreams museums, hospitals and other institutions by donating large amounts to their country of adoption.  In Chicago Prabhakant Sinha became the Art Institute's first Asian-American trustee and was the co-chair of the annual gala. Kant and his wife Anita have now created the Sinha Kikeri Foundation with $1.3 million earmarked for arts, education and social justice projects.
Sharmila Rao Thakkar, Director at the online network The South Asian Philanthropy Project, says, "While there are no hard figures yet for Indian giving,  Indian-Americans sit  on the boards of large arts, health and education institutions. I've seen charitable giving by young South Asians  from personal acquired wealth or inherited wealth, and family foundations emerging from anonymity, as well as the rise of giving circles amongst the Indian-American community across the country."
Indian traditions of giving are inculcated in the children by their immigrant parents and the second-generation is taking  philanthropy to a whole new level with the American style of fundraising, volunteerism  and promotion, with a big dose of professionalism.  It's the big, larger-than-life American size in giving!
6 Fun Facts About Galas
1. Largest Amount Raised: $ 3 million at AIF Gala at Waldorf Astoria with Mukesh Ambani and Jeffrey Emelt of GE.
2. Most Popular Guest – President Bill Clinton ( AIF)
3. Most Unusual Locations: Aboard the mighty aircraft carrier Intrepid which saw action in World War II (Pratham USA)  and in the lobby of the historic Union Station in Chicago (AIF )
4. Best Keynote Speech – Indra Nooyi of PepsiCo (Children's Hope India)
5. Most Creative Menus by Celebrity Chefs – Vikas Khanna of Junoon, Hemant Mathur of Tulsi and Jehangir Mehta of  Graffiti  (Pratham USA and AIF)
6. Best Live Auction Prize – VIP Tickets to the Grammies – sold for $20,000  (AIF)
(C) Lavina Melwani
 (This article was first published in Khabar magazine)