NRI Tales: Becoming Indian in America
By
Sanjay Sanghoee
• May 31st, 2011 • Category:
The Buzz
GD Star Rating
loading...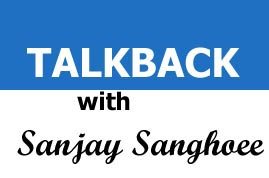 NRI?

Indian-American?

Desi?

American? 

Indian?

Or All?
We all talk about "being" Indian in America, but what about "becoming" Indian?  As an NRI and an Indian-American, that's an experience I had never thought I would have but that is precisely what is happening.  Becoming Indian feels a bit like a metamorphosis – a complete change of form, structure, or substance – but it's not.  It's more like a hidden and suppressed side of our persona and outlook finally refusing to be denied and seeping slowly into our life to change it forever.
Desi

Fish out of Water: Picking Sides
I came to the US in college and having grown up in Dubai, Nepal and India, I was a bit of a fish out of water.  The diverse and multicultural nature of Manhattan and Columbia University suited me just fine but the pressure to assimilate into mainstream American culture was pretty strong too and it created a conflict for me.  I resolved this conflict in the short term as I suspect a lot of Indians do – by picking a side, the American side.  I was so adamant, in fact, NOT to be considered Indian that I even refused to join any South Asian associations or fraternize with other Indians…  This went on for more than a decade.
It was purely by accident that I got thrown into the circle of Indians in New York City at a later point in my life, mostly because I was trying to publicize my novel MERGER and needed help from "my people".  I merrily got involved in Indian activities and groups to hawk my wares, never suspecting that what I would really find was not publicity for my book but a new awareness of who I really am, where I come from, and a sense of camaraderie that had eluded me for longer than I could remember.
Being

Indian

and Becoming

Indian
Not that it came quickly or easily; in fact it took several years before I even realized what was happening and that I suddenly had a good group of Indian friends that I enjoyed spending time with.  Beneath it all, of course, was the common cultural bond we all have (whether we like admitting it or not) – which includes superficial stuff like spicy food, cricket and Bollywood movies to more serious things like common concerns about life, career, marriage, parents.  It's simply easier to communicate with people who know where you're coming from and what you're actually talking about.
Cut to now, and a new factor has crept in; namely that of values.  As I get older, I find myself trying to rediscover some of the values of our Indian culture which shaped my childhood and still run as an uneasy undercurrent through my adult psyche, but for the most part have been suppressed in the desire to adapt to the New York lifestyle.  As with all value systems, of course, not everything is desirable and it's necessary to pick and choose the best of both Indian and American values in order to be truly happy.
More specifically, our emphasis on family, commitment and a sense of romanticism about life are good things that should never allowed to be impacted by the increasingly cynical and success-oriented American mindset.  Conversely, the archaic social restrictions of Indian culture have no place in our modern age.  If we can find the right balance, we can be both Indian and American without compromising either identity.
All right, that's the good part; where's the problem?  The problem is in the transformation process, the transition from a two-dimensional existence to a three-dimensional one.  Not only is it temporarily confusing and dramatic but can lead to period of estrangement from either or both communities and just plain weirdness.
The good news is that with a couple of Advils, a deep breath and some patience, this challenge can be overcome.  The important thing to remember is that this process is not only natural but also inevitable; one that we were all destined to go through the moment we came into this world in an Indian body.  I'm not advocating that we should all suddenly start chanting "Mera Bharaat Mahaan" spontaneously (which would be a little disturbing), but more accurately be able to say "Mera Bharaat Awesome" with pride and understanding of why we feel that way.
Personally, I love kathi rolls, chaat, the criminally catchy music of Bollywood and impossibly beautiful women dancing with jaw-dropping synchronicity and am not ashamed to admit it.  Not to mention having to convince the cashier at Dunkin Donuts that I don't drive a cab for a living and of course calling everyone uncle and aunty indiscriminately…  Sure, it's all a little cheesy and the emotional drama inherent in Indian culture is hilarious, but it's also fantastic and special. Just because we're as much at ease in the more ordered and pragmatic reality of the New World doesn't mean we should give up the eccentricities that make us unique!
Since this is an interactive forum, please do tell us your experiences with rediscovering your Indian heritage and let me know what you think of my thoughts.
Sanjay Sanghoee, author of 'Merger', a corporate thriller available on Amazon, blogs on political, financial and social topics which are carried weekly by several radio stations. He has written spec episodes for TV shows like 'Law & Order: SVU' and a screenplay for 'Merger'.  He has an MBA from Columbia Business School and worked on Wall Street for 15 years in investment banking and hedge funds. www.sanghoee.com
Related Article:
Raj Rajaratnam- The Old Boys Club on Trial
GD Star Rating
loading...
NRI Tales: Becoming Indian in America

,
Sanjay Sanghoee is is a blogger on Huffington Post and the author of the financial thriller MERGER, published by Forge Books and available on Amazon. He is a former banker and resides in New York City.
Email this author | All posts by Sanjay Sanghoee